Ko urges new graduates to stand up to setbacks
Taipei Mayor Ko Wen-je (柯文哲) yesterday urged high-school and university graduates to take a positive attitude toward setbacks in life, and always work hard.
Ko presented the annual Mayor Award to Taipei's university, senior-high, vocational and special school students who graduated at the top of their classes.
"While commencement is the graduation ceremony, it also means 'beginning' in English, so graduation is only the end of school life, but it is the beginning of another period in life," Ko said.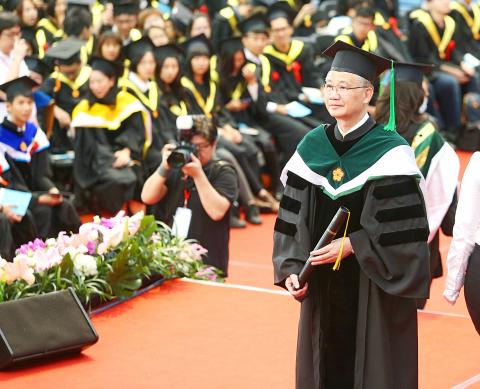 Outgoing National Taiwan University president Yang Pan-chyr yesterday attends the university's graduation ceremony in Taipei.
Photo: CNA
"Life is like a marathon, not a 100m dash; winning first place in one period does not guarantee winning in the next period, so you must continue working hard," he said.
People might think highly of his achievement of finishing the 520km "twin-tower" bicycle trip, but getting up with fractured ribs after a fall during a run at the Taipei Track and Field Stadium in April is a greater achievement, Ko said.
"The most important thing is to always have a positive attitude and face the difficulties after suffering a setback in life," he said. "Standing up again and continuing to run is the most important thing."
While talent, luck and effort are three factors of success, effort is the only thing a person can fully control, and is an important factor in achieving success, Ko said.
Separately yesterday, National Taiwan University (NTU) held a graduation ceremony, with outgoing NTU president Yang Pan-chyr (楊泮池) telling the graduates that the purpose of education is to be altruistic and help disadvantaged people.
Lee Kai-fu (李開復), a Taiwanese artificial intelligence (AI) researcher who played a key role in establishing Microsoft's and Google's China-based research laboratories, was invited to give a speech at the ceremony, where he called on the students to build their self-worth.
He said that the nation should attach greater importance to the service industry because it is Taiwan's core competence and cannot be superseded by AI.
The difference between humans and AI lies in humans' ability to love and be loved, Lee said, adding that even though Google's AlphaGo has defeated the world's best Go player, it could not feel the exhilaration of victory.
Taiwan should use its soft power in the service, cultural and creative industries as well as volunteers to sharpen its competitive edge, Lee said.
Additional reporting by CNA
Comments will be moderated. Keep comments relevant to the article. Remarks containing abusive and obscene language, personal attacks of any kind or promotion will be removed and the user banned. Final decision will be at the discretion of the Taipei Times.