Mobile Forest puts nature on bus
SNEEZE RIDE? Organizers said that people who want to use buses on route No. 203 should take normal services if they have allergies to grass or flowers
A "Mobile Forest" bus, a conceptual creation hoping to bring nature closer to urban commuters, was launched in Taipei on Wednesday morning.
The interior of the bus is decorated with Taiwanese flowers and the walkway is paved with artificial turf. The exterior of the bus features drawings by designer Xiao Qing-yang (蕭青陽).
The bus is the result of cooperation between Kuang-Hua Bus Co and a team of chief executives and company managers who are part of the Beautiful Touch Association.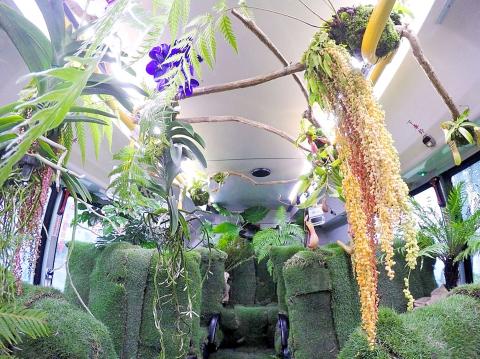 The "Mobile Forest" bus is pictured in Taipei in an undated photograph.
Photo courtesy of the Beautiful Touch Association
The project is based on the theme that people acting alone can change their surroundings, and that action will make Taiwan a better and more beautiful place, the project members said.
The Mobile Forest operates along bus route No. 203 between Taipei's Tianmu (天母) area and New Taipei City's Sijhih District (汐止).
There is only one bus per day during the trial period, which lasts until Sunday.
The bus is free to ride during the trial run, the association said.
The Mobile Forest cost NT$100,000 to prepare, including the flowers, and expected maintenance and management fees, the association said, adding that as it has limited funding, it is to assess whether the venture would be viable after the trial period.
Association members said that as only one Mobile Forest bus runs per day, they encourage people who are allergic to flowers or grass to take normal 203 buses.
The Taipei City Government has is not involved in the project and is not financing it, Kuang-Hua Bus manager Ma Tzu-chun (馬祖軍) said, adding that paperwork was sent to the city government because the bus is using the same route and stops as an existing service.
Taipei Department of Public Transportation Director Yang Chin-wen (楊欽文) said that the Mobile Forest was not a breach of any regulations.
Meanwhile, the Beautiful Touch Association was involved in a beautification project with Shihdong Market, with the association helping 18 stall owners to improve the aesthetics of their stalls and billboards.
"We hope that the Mobile Forest bus will also bring more visitors to Shihdong Market — as the service passes nearby — and allow more people to experience a traditional market," the association said.
Comments will be moderated. Keep comments relevant to the article. Remarks containing abusive and obscene language, personal attacks of any kind or promotion will be removed and the user banned. Final decision will be at the discretion of the Taipei Times.