Fish art brings serenity to prisoners
HOOKED: The traditional Japanese art form used to record fish types, sizes and locations, takes a long time to prepare and requires patience, an artist said
A well-known artist has been teaching visual art at Keelung Prison for five years.
Yan Shang-wen (嚴尚文) has painted in the traditional Japanese style known as gyotaku for 36 years.
Gyotaku, or fish printing, involves applying ink, paint or pigment to the relief side of a fish, which is then pressed onto paper or canvas.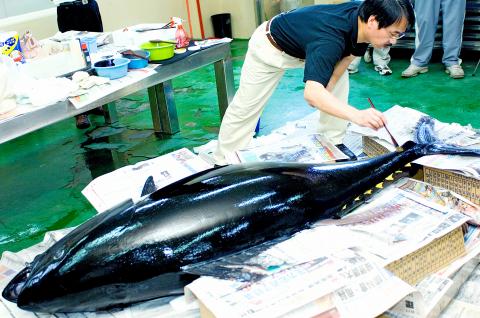 Taiwanese artist Yan Shang-wen paints the body of a bluefin tuna on April 23 as part of his art lessons at the Keelung Prison.
Photo: Wu Cheng-feng, Taipei Times
Yan's works have sold for millions of dollars at auction and have been displayed at the Louvre Museum in Paris.
Five years ago Yan accepted a teaching position at the prison, which hopes to use art to help rehabilitate inmates.
"I am 62 years old. I wanted to act while I still have the ability to help people who nobody else has concern for," Yan said.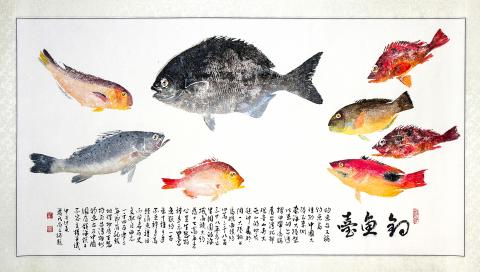 A gyotaku painting by Taiwanese artist Yan Shang-wen, previously on display at the Louvre Museum in Paris, is shown in an undated photograph.
Photo: Wu Cheng-feng, Taipei Times
The Ministry of Justice in 2012 launched a program to promote special characteristics for each prison. Keelung Prison chose to feature the city's fishing industry through gyotaku printing.
The ministry offered to pay Yan NT$1,600 per lesson.
"I felt that I had the opportunity to serve society, and at my age it was providence as well as my responsibility. I gladly accepted," Yan said.
Yan has taught more than 100 inmates, only five of whom have been reincarcerated after their release.
Yan said classes demonstrate that marginalized people can develop self-confidence and a sense of achievement through art, adding that it can help with rehabilitation.
"For me, everything started with fishing," Yan said.
Yan said he first made prints of his catches to record their size, the bait used and the time and place.
He later became interested in fish printing as an art form and started making prints with different numbers, colors and types of fish.
His art eventually gained Yan recognition nationwide.
In 2007 he was invited to make a 2m print of an Atlantic bluefin tuna for the annual Pingtung Bluefin Tuna Cultural Festival with then-president Chen Shui-bian (陳水扁), who drew the tuna's eyes.
In 2014 Yan's work was displayed at the Louvre Museum and the museum's staff wore copies of his prints on their uniforms. The gyotaku print exhibit was the first of its size.
The value of gyotaku art is determined by how rare the fish is, as well as the quality of the print, Yan said.
Preparation takes a long time, but the printing takes five to 10 minutes, Yan said, adding that patience is very important to the process.
"Learning to enter that composed, meditative state of mind is exactly what many inmates need most," Yan said.
Yan said he would help any of his former inmate students if they found it difficult to find work, adding that he has done so in the past.
People who have visited inmates in the prison have been moved to tears by seeing Yan work with them, the prison said.
Comments will be moderated. Keep comments relevant to the article. Remarks containing abusive and obscene language, personal attacks of any kind or promotion will be removed and the user banned. Final decision will be at the discretion of the Taipei Times.