Changhua school tells students to just drink water
After the Changhua County Government in March banned sugary drinks on school campuses, Nan Hsing Elementary School yesterday went a step further by encouraging its pupils to drink only boiled water.
It has even included the idea in its curriculum.
The county government amended the Changhua County Self-Governance Ordinances for Food Safety Management (彰化縣食品安全管理自治條例) to ban sugar-sweetened beverages on campuses ranging from preschool to senior-high, as well as other educational institutions. It was the first local government in the nation to do so.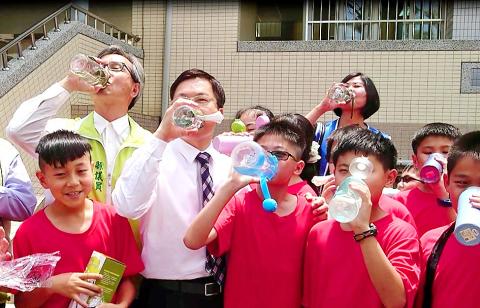 Changhua County Commissioner Wei Ming-ku, wearing tie, drinks water with students at Nan Hsing Elementary School in Changhua City on Monday.
Photo: Liu Hsiao-hsin, Taipei Times
Nan Hsing, in Changhua City, asked Changhua Christian Hospital director Yang Jui-cheng (楊瑞成) to talk to its students yesterday about the benefits of drinking water.
Individuals should drink 100 to 150 milliliters (ml) of water at a time, not 500ml — as with some bottled drinks — at once, he told the students, adding that water should be drunk warm and in small mouthfuls.
Consuming sports drinks for electrolytes means consuming too much sugar and additives, Yang added.
Nan Hsing principal Ko Po-ju (柯伯儒) said he has discussed with his faculty how to get students to drink more water while at school.
They decided the school would boil kettles of water and ask students to drink a certain amount of water before every class, and that drinking more water would be encouraged after physical education classes or sports club periods, he said.
Faculty members would also be required to drink 1,500ml of water daily, he said.
Changhua County Commissioner Wei Ming-ku (魏明谷), who attended Yang's talk, said he switched from sweetened drinks to plain water 10 years ago.
"To quench one's thirst, drinking boiled water is the cheapest and best way. Nowadays, many restaurants provide water for their customers," he said.
Changhua County will budget for schools to purchase water fountains or dispensers or update their old ones so that teachers and students would be able to drink more water while at school, Wei added.
Changhua Public Health Bureau head Yeh Yen-po (葉彥伯) said violators of the county's ban could face fines ranging from NT$60,000 to NT$200 million (US$1,996 to US$6.7 million).
Comments will be moderated. Keep comments relevant to the article. Remarks containing abusive and obscene language, personal attacks of any kind or promotion will be removed and the user banned. Final decision will be at the discretion of the Taipei Times.