Young puppeteer fights for a declining art
PULLING THE STRINGS: The 26-year-old had only wanted to make puppets until his mentor showed him the holistic nature of the art, including music, acting and poetry
Traditional Chinese puppeteers in Taiwan should face the future by emphasizing the tradition's origins as a fine performative art and attracting adult audiences with sophisticated tastes, Unique Puppet Theater's 26-year-old troupe master Kuo Chien-fu (郭建甫) said.
Kuo is not only a student at China University of Technology's Graduate Institute of Visual Communication and Design in Taipei, but is also a traditional hand-puppet performer and puppet maker who has led the Unique Puppet Theater since he founded the troupe in 2012.
The artist's puppets were highlighted by President Tsai Ing-wen (蔡英文) last year, when she gave several as an official gift to the presidents of Panama and Paraguay during her diplomatic visits in Central America.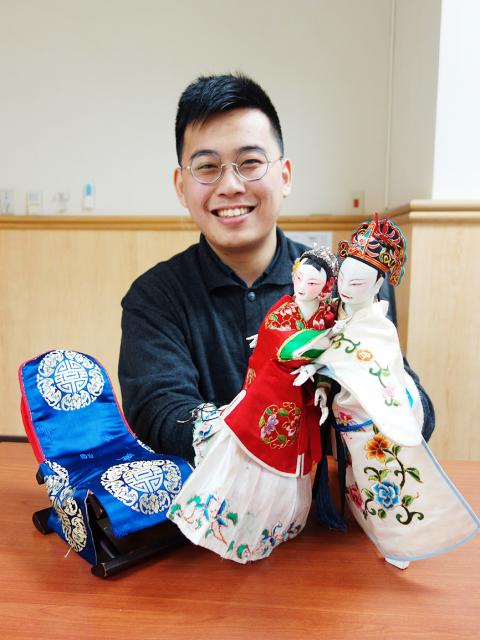 Unique Puppet Theater's 26-year-old troupe master Kuo Chien-fu poses with two puppets in Taipei on Feb. 12.
Photo: Wu Po-hsuan, Taipei Times
Kuo said he used to watch traditional Chinese operas with his great-grandfather as a child and fell in love with the visual elements of the performances, which he later delved into when he explored traditional puppetry at his elementary school's students' association.
By junior-high school, he was learning the craft with a professional puppetry troupe, and by senior-high school, he was confident enough to introduce himself to the renowned puppeteer Chen Xi-huang (陳錫煌) after Chen performed at the Tataocheng Opera Court (大稻埕戲苑), Kuo said.
At the time of his apprenticeship, his interest in traditional puppet theater was limited to creating puppets, rather than performance, Kuo said.
However, Chen insisted that puppetry is a holistic art that encompasses all skills involved in puppetry, including painting and engraving puppets, embroidering their costumes, performing music, stage acting, poetry and puppet manipulation, Kuo said.
"I really did not want to learn puppet manipulation because it was difficult, but Chen said you must learn how to manipulate a puppet to learn how to make practical and useful puppets," he said, adding that Chen's tutelage had taught him to become a well-rounded performer.
Puppet manipulation was a challenging art and making a puppet kick is a skill that took him six months to master, Kuo said.
In 2012, he received Chen's formal recognition as an apprentice, a prestigious position that made him the third-generation successor of hand puppetry master Li Tien-lu (李天祿).
"When you have a master, you are entrusted with a heritage and become responsible for your actions," he said, adding that he started the Unique Puppet Theater in the same year to expand and pass on what he had learned.
Kuo divides his time between practicing with the troupe during the day and taking classes on visual communication theory at the university in the evening, while also working as the Gu Gallery's (源古本舖) resident performer and participating in the Ministry of Culture's program to preserve traditional arts, he said.
He acknowledged media reports that components for the heads of the puppet he made for Tsai were purchased from China, but added that they were received as "raw materials" that needed in-house assembly, costumes and embroidery to become complete and functional puppets.
The cost of producing puppets is rising in China and the troupe is considering sourcing from manufacturers in Southeast Asia, with Taiwanese artists maintaining critical skills and design, Kuo added.
The Unique Puppet Theater performs internationally, and has staged performances in Japan, the US, Singapore, the Netherlands, Hong Kong, Turkey, Malaysia and France in the past three years, Kuo said, describing the tours as "an unfortunate necessity caused by the shrinking market for classical puppetry."
"Classical puppetry cannot compete with television or movie theaters as mass culture. Its future lies in its sophisticated aesthetics of movement, figures, costumes and artistic presentation," he said.
"Performing abroad is a way for us to expand our perspectives, but it is unfortunate that by comparison, foreigners have more respect for puppetry as a traditional heritage, while domestically, people see it as something for children," he added.
The Unique Puppet Theater aims to avoid reliance on proceeds from ticket sales or public subsidies, Kuo said, adding that traditional puppetry is a fine art that thrives best within a niche of adult aficionados, which the troupe cultivates by holding seminars.
Taiwan's heritage of traditional puppetry is in decline and most of the nation's 300 performance troupes have disbanded, he said, making conservation an urgent task.
Currently, he is interviewing elders in the profession to record their knowledge, as well as the culture and context of puppet plays for inclusion in a book that he intends to publish, Kuo said.
The government should help preserve traditional puppetry by encouraging educational institutions to offer classes and programs to groom professionals, he added.
Comments will be moderated. Keep comments relevant to the article. Remarks containing abusive and obscene language, personal attacks of any kind or promotion will be removed and the user banned. Final decision will be at the discretion of the Taipei Times.