Engineer charged over crash of YouBike system
The Taichung District Prosecutors' Office on Monday charged a computer engineer with obstruction of computer use over the crash of the YouBike system last year, alleging he installed malware into the system.
The engineer, surnamed Liao (廖), maintains his innocence and is awaiting trial.
The system crash on Aug. 31 last year caused YouBike docking stations to go offline in Taipei, New Taipei City, Taoyuan, Hsinchu, Taichung and Changhua — affecting 22,000 bicycles — and resulted in losses of more than NT$20 million (US$662,910), the indictment said.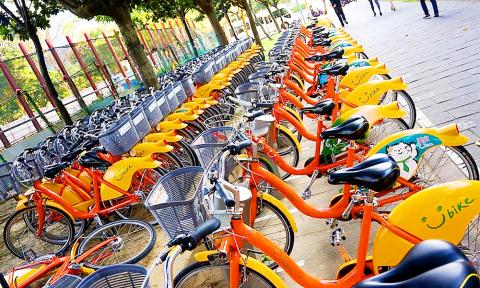 Rows of rental bicycles operated by YouBike Co Ltd stand parked at docking stations in Taichung on Dec. 12 last year.
Photo: Yang Cheng-chun, Taipei Times
The service resumed on Sept. 2 after emergency repairs were carried out.
A multi-agency investigation led by Taichung district prosecutor Huang Yuan-heng (黃元亨) concluded that Liao, a 30-year-old employee of YouBike contractor Microprogram Co, was responsible for sabotaging the system, following a spat with his supervisor at work during which he made threats.
Liao was accused of coding a malware program identified as list_card_hash_3 that he inserted into YouBike Co servers during a software update in Chuanghua for the programs governing the mechanisms that affix bicycles to their docking stations, the indictment said.
The malware activated at 12:55am and disrupted services across the nation, it said.
After reviewing the incident, investigators first ruled out pre-existing software flaws as the cause of the crash, then discovered the malware, and excluded the possibility that former employees could have gained access to the system, the indictment said.
As a result, the circle of suspects was narrowed to three software engineers, but two were later ruled out because one lacked the knowledge or skills to execute the attack, and the other senior-ranking engineer had worked hard to contain the damage during the crisis, it said.
Liao allegedly created list_card_hash_3 on a previous occasion out of a desire to slack off at work, the indictment said.
Liao showed little initiative in dealing with the crash and his browser history indicated he tried to find ways to remove software that had been inserted in a system without leaving a trace, it added.
Comments will be moderated. Keep comments relevant to the article. Remarks containing abusive and obscene language, personal attacks of any kind or promotion will be removed and the user banned. Final decision will be at the discretion of the Taipei Times.