Presidential Office defends nominations
CONTROL YUAN: The KMT said the appointments were a slap in the face of the DPP, which has long sought to abolish the government watchdog
The Presidential Office yesterday fended off criticism that Presidential Tsai Ing-wen's (蔡英文) nominations of 11 Control Yuan members runs counter to a long-term plan to abolish the watchdog agency, saying that its stance remains unchanged.
The current Control Yuan president, vice president and 16 members were all nominated by former president Ma Ying-jeou (馬英九) and approved by the previous legislature, Presidential Office spokesman Alex Huang (黃重諺) said.
"However, [Tsai was elected in] last year's Jan. 16 presidential election with a new mandate; the new nominations made to fill the current vacancies ... will make it more representative of that mandate," he said.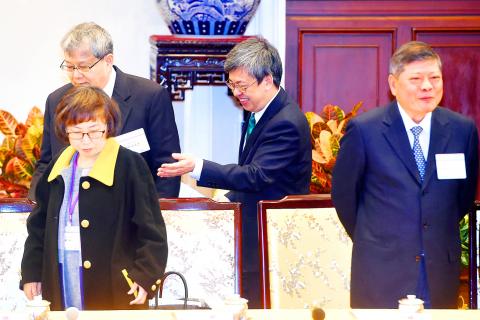 Vice President Chen Chien-jen, second right, introduces Control Yuan nominees Chen Shih-meng, second left, Yang Fang-wan, left, and Jao Yung-ching, right, at a news conference at the Presidential Office Building yesterday.
Photo: Liao Chen-huei, Taipei Times
Tsai's nominees were also picked to ensure that the Control Yuan is able to function properly — supervising government agencies and offering assistance to people whose rights have been infringed on due to miscarriages of justice — before the Constitution is amended to pave the way for the agency's abolition, Huang said.
All 11 nominees are top-notch professionals in their respective fields, which include the environment, public health, the law and human rights, social welfare and finance, he said.
"We must stress that it has been our consistent stance to abrogate the Control Yuan through constitutional amendment. This stance remains unchanged," Huang said.
According to Article 7 of the Additional Articles of the Republic of China (ROC) Constitution, the Control Yuan "shall consist of 29 members, including a president and a vice president, all of whom shall serve a term of six years."
Their nominations require the consent of the legislature.
Huang's remarks came a few hours after the Chinese Nationalist Party (KMT) held a news conference in Taipei to label the nominations a slap in the face of the Democratic Progressive Party (DPP).
"The DPP has for years advocated the abolition of the Control Yuan and the Examination Yuan... Yet after the party gained power, it swiftly nominated candidates to fill the vacancies at the Control Yuan," KMT Culture and Communications Committee deputy director Tang Te-ming (唐德明) said.
Given the nominees' backgrounds, their selection was apparently a "political reward" from the DPP for their service or electoral support, Tang said, citing attorney Yang Fang-wan (楊芳婉), who represented former first lady Wu Shu-jen (吳淑珍) in her corruption trial, and People First Party Deputy Secretary-General Liu Wen-hsiung (劉文雄) as examples.
Other nominees include former Presidential Office secretary-general Chen Shih-meng (陳師孟); former activist and Taipei City Government employee Wang Yu-ling (王幼玲); Deputy Minister of Overseas Community Affairs Tien Chiu-chin (田秋堇); former independent legislator Walis Perin; Lin Sheng-fong (林盛豐), a professor; Chang Wu-shou (張武修), a physician; lawyer Kao Yung-cheng (高涌誠); former DPP legislator Jao Yung-ching (趙永清); and judge Tsai Chung-yi (蔡崇義).
Vice President Chen Chien-jen (陳建仁) introduced the 11 nominees to the public at a news conference at the Presidential Office Building after they met earlier in the day with Tsai.
Saying the nominations were aimed at maintaining the Control Yuan's role of supervising and safeguarding human rights, Chen Chien-jen said he hoped the nominees' experience would help them undertake the watchdog's duties.
As the nominees would only be serving the remaining term of their predecessors, their terms are set to expire on July 31, 2020, he said.
"We have communicated with Legislative Speaker [Su Jia-chyuan (蘇嘉全)] about the confirmation of their nominations. He promised to arrange for a review of their cases in the legislature as soon as possible," Chen Chien-jen said, adding that he expected the nominations to be approved within one to two months.
Comments will be moderated. Keep comments relevant to the article. Remarks containing abusive and obscene language, personal attacks of any kind or promotion will be removed and the user banned. Final decision will be at the discretion of the Taipei Times.