Hit theater belies idea of Taichung as 'cultural desert'
Performances at the National Taichung Theater during its first season since opening were box-office hits, with 86.7 percent of tickets sold and Taichung residents contributing to more than half of the revenue, data from the theater showed.
From October to Christmas last year the theater, which opened in September, ran 30 programs ranging from musicals, dance and operas to theater, with performing companies booking more than 80 dates, the theater said.
The shows sold a total of 35,570 tickets and generated NT$30.02 million (US$970,171), it said.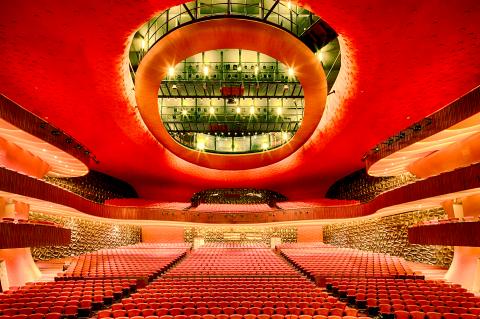 The interior of the National Taichung Theater is seen in this undated photo.
Photo courtesy of the National Taichung Theater
This debunked two myths: that Taichung residents were unwilling to pay to see shows and that Taichung is a "cultural desert," it said.
Theater data showed that 6,500 tickets were sold at a 20 percent discount to those with a "Taichung resident card," which netted NT$5.4 million, while more than 14,000 tickets were sold via group purchases, which accounted for about NT$10 million of the proceeds.
The figures indicate that a majority of tickets were sold to Taichung residents during its first season of operation, the theater said.
Tickets to performances that parents and children can enjoy together were sold out, while high-profile classical music concerts on average sold out in two weeks, the theater said.
Ticket sales for dramas and traditional Taiwanese operas also did well, with shows by Taiwanese opera singer Liao Qiong-zhi (廖瓊枝) and Tang Mei-yun Taiwanese Opera Troupe (唐美雲歌仔戲團) and Guoguang Opera Company (國立國光劇團) all selling more than 90 percent of tickets, the theater said.
Tickets to Piya Behrupiya, a Hindi-language adaptation of William Shakespeare's Twelfth Night by Indian actor Atul Kumar's Company Theater, sold out, it said.
Unlike Taipei residents, who usually buy their tickets months ahead of a show, ticket sales usually start to show significant growth three days before a show, which can prove to be a potential challenge for theater staff when promoting events, it said.
Comments will be moderated. Keep comments relevant to the article. Remarks containing abusive and obscene language, personal attacks of any kind or promotion will be removed and the user banned. Final decision will be at the discretion of the Taipei Times.