Ex-premier Jiang Yi-huah launches youth foundation
Former premier Jiang Yi-huah (江宜樺) yesterday announced the establishment of a foundation aimed at seeking a "way out" for Taiwan and linking Taiwanese youths with the international community.
He denied that the move was a precursor to staging a political comeback.
With Jiang as president, the newly founded Fair Winds Foundation's board of directors includes many former Cabinet members of former president Ma Ying-jeou's (馬英九) administration, including former minister of Mainland Affairs Council Andrew Hsia (夏立言), former minister of National Development Council Kuan Chung-ming (管中閔), former minister of culture Lung Ying-tai (龍應台) and former minister of transportation and communications Yeh Kuang-shih (葉匡時), who is also the chief executive officer.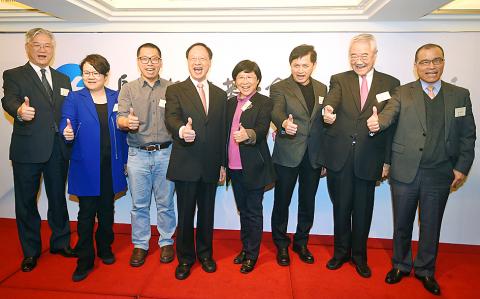 Former premier Jiang Yi-huah, fourth left, accompanied by Fair Winds Foundation's board of directors, gives the thumbs-up at the launch of the foundation in Taipei yesterday.
Photo: Liao Chen-huei, Taipei Times
"After resigning as premier in December 2014, I went to the US as a visiting scholar before taking on a teaching job in Hong Kong last year. Spending two years abroad allowed me to look at what happened in Taiwan from an appropriate distance," Jiang said in his speech.
Jiang said his heart had been wrenched by the constant internal friction at home, which prompted him to approach a group of like-minded individuals to jointly roll up their sleeves and do something to change the situation.
Reiterating that the foundation is not a personal platform, Jiang said it is an organization through which he intends to work with other organizations and link young people with the international community.
He said he plans to achieve the goals through policy research, large-scale speeches, forums and international student camps.
This year's events include a forum on Feb. 19 in Taipei where Kuan and four young people are to talk about Taiwan's future, and in April a speech by US political scientist Francis Fukuyama on democratic governance.
"Former vice president Vincent Siew (蕭萬長) is also due to give a speech to share his experiences as one of Taiwan's economic pioneers and talk about future economic situations across the Taiwan Strait," Jiang said.
The exact time and content of Siew's speech are still being discussed, he said.
The foundation's establishment came as major political parties are gearing up for the local election next year, sparking speculation that Jiang is seeking a political comeback and might join the race.
"It has nothing to do with elections. We merely want to do something based on our shared ideals," Jiang said, adding that vying for political office is not the only way to serve the community.
Jiang also denied he had consulted with or sought the opinions of Ma and former National Security Council secretary-general King Pu-tsung (金溥聰) about setting up the foundation.
Asked why Chinese Nationalist Party (KMT) Vice Chairman Hau Lung-bin (郝龍斌) was the only political figure attending the founding ceremony, Jiang said he did not invite Ma, former vice president Wu Den-yih (吳敦義) or any leaders of political parties due to the foundation's cultural and educational nature and limited seating at the ceremony.
"Hau volunteered to come after hearing about news of the foundation's establishment," Jiang added.
Hau and Wu are contenders in the KMT's next chairmanship election on May 20.
Comments will be moderated. Keep comments relevant to the article. Remarks containing abusive and obscene language, personal attacks of any kind or promotion will be removed and the user banned. Final decision will be at the discretion of the Taipei Times.