Scenic Badouzih Station opens after 27-year break
Badouzih Station (八斗子), on the border between New Taipei City and Keelung, known for its views of the coastline and mountain ranges on the Taiwan Railways Administration's (TRA) Shenao Branch Line (深澳), on Wednesday resumed services after a 27-year hiatus.
Keelung Mayor Lin Yu-chang (林右昌), Democratic Progressive Party Legislator Tsai Shih-ying (蔡適應), Ruifang District Warden Chen Chi-cheng (陳奇正) and National Museum of Marine Science and Technology director Wu Chun-jen (吳俊仁) attended an inauguration ceremony with the first train from Ruifang Station (瑞芳) arriving at Badouzih at 10:25am.
"The Station will be beneficial to the National Museum of Marine Science and Technology as well as surrounding landmarks," Lin said.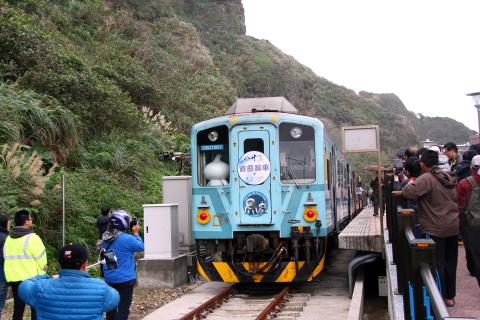 People take pictures of the first train to stop at Badouzi Station in Keelung City's Jhongjheng District after the station reopened on Wednesday.
Photo: Lin Hsin-han, Taipei Times
The line was built to transport coal and later added passenger services. It stopped transporting passengers in 1989, but briefly resumed passenger services in January 2014.
However, local residents complained about the noise from the train.
"The train had to make an alternative stop at the old Badouzih Station near the museum," Ruifang station master Chen Yi-chung (陳義忠) said, adding that it was the beauty of Badouzih that spurred the idea for a renovation.
Comments will be moderated. Keep comments relevant to the article. Remarks containing abusive and obscene language, personal attacks of any kind or promotion will be removed and the user banned. Final decision will be at the discretion of the Taipei Times.