Lawmakers eye bicycle regulations
Lawmakers have called for the introduction of standards on, and the relaxation of, the laws regulating the modification of bicycles and transporting additional passengers on bikes, saying that current laws allow for unsafe practices by parents.
Democratic Progressive Party (DPP) legislators Karen Yu (余宛如), Tsai Chi-chang (蔡其昌) and Chao Tien-lin (趙天麟) recently proposed amendments to laws prohibiting parents from installing child seats on bicycles or carrying children on bicycles.
The legislators proposed safety standards and mandatory inspections for child seats, adding that parents and children should be allowed to ride together legally through enforced safety requirements.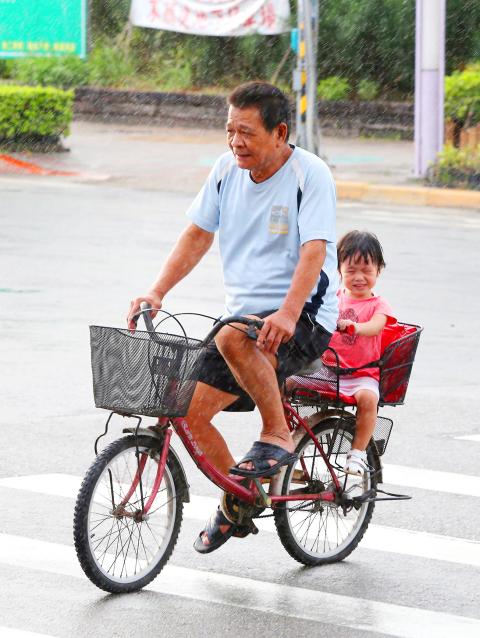 A man and a child ride a bike in the rain in Taipei on Sept. 13.
Photo: CNA
Yu said Article 76 of the Act Governing Punishments for Violations of Road Traffic Regulations (道路交通管理處罰條例) and Article 122 of the Road Traffic Safety Rules (道路交通安全規則) make it illegal for parents to add seats to or transport children on their bicycles, adding that parents who need to do so find their hands tied if they do not want to break the law.
Yu said the laws were introduced in 1968 and are now out of touch with the times.
She said the law must change to accommodate safe riding for parents who need to ride with their children.
Tsai said that if the bicycle laws are not changed, families in rural areas would be forced to ride scooters with their children sitting in front of them, adding that this is more dangerous than children riding on bicycles.
Tsai said that many people modify their bicycles on their own, adding that manufacturers cannot offer safer products since, modified bicycles are illegal.
"Taiwan is a world leader in bicycle production and exports. There must be a clearer way of solving this issue," Tsai said.
Chao said there is a growing trend toward bike-sharing services, adding that banning tandem bicycles goes against the trend.
Chao said that parents with tandem bicycles should be able to use the growing number of bicycle roads in cities, citing about 1,000km of trails built by Kaohsiung Mayor Chen Chu (陳菊).
National Police Agency traffic division director Chiang Yi-yi (江義益) said police officers rarely issue fines to people who share bicycles unless there are clear safety violations, adding that the policy on the issue is to guide the public.
Ministry of Economic Affairs Bureau of Standards Deputy Director-General Chuang Su-chin (莊素琴) said the ministry is drafting standards based on those used in the EU.
A draft bill should be ready in the first half of next year, Chang said adding that the ministry will discuss with the Ministry of Transportation and Communications the type of products that would be covered by the standards.
Chang Shun-ching (張舜清), a section chief at the transportation ministry's Department of Railways and Highways, said that numerous discussions have already taken place with the economics ministry and the police, adding that the basic contents of the standards have already been drafted.
Chang said discussions have centered on how cyclists can maintain unimpeded control of a bicycle, adding that proposed requirements call for cyclists carrying a child to be at least 18 years old and that the child must not be above the age of seven and must not weigh more than 20kg.
Comments will be moderated. Keep comments relevant to the article. Remarks containing abusive and obscene language, personal attacks of any kind or promotion will be removed and the user banned. Final decision will be at the discretion of the Taipei Times.