Massacre archive founder Juan died at age 90: family
Renowned 228 Incident remembrance advocate and musician Juan Mei-shu (阮美姝), who dedicated half of her life to seeking the truth about her father's death, died on Monday at age 90, her family said on Monday.
Juan had diabetes, and her condition deteriorated on Wednesday last week, said Lin Li-jung (林麗容), her eldest daughter.
Juan's father, Juan Chao-jih (阮朝日), was a victim of the massacre, an uprising that began on Feb. 27, 1947, and was violently suppressed by the then-Chinese Nationalist Party (KMT) government, with estimates of the death toll varying from 10,000 to 30,000 or more. The massacre marked the beginning of the White Terror period.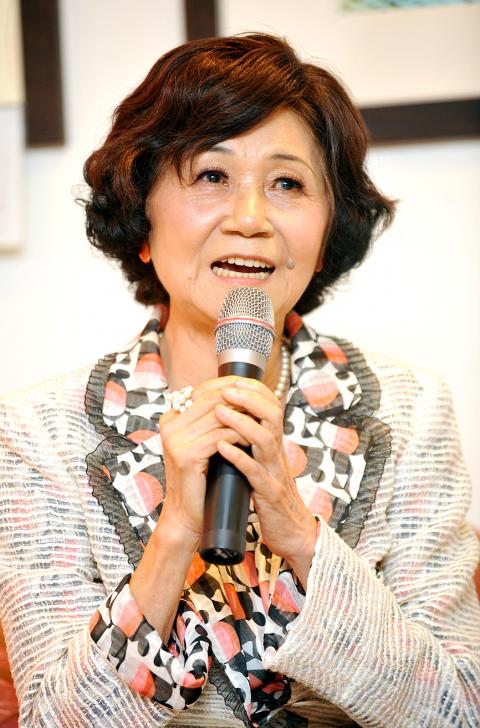 Juan Mei-shu, daughter of a victim of the 228 Incident, is pictured on Oct. 14, 2010.
Photo: Chien Jung-fong, Taipei Times
Juan Chao-jih, then-general manager of the Taiwan Shin Sheng Daily News, was taken from his home by gunmen on March 12, 1947, and never seen again.
While studying music in Japan, Juan Mei-shu read Taiwanese academic Ong Iok-tek's (王育德) Taiwan: A History of Agonies (台灣苦悶的歷史), which said that her father was killed by the government.
Ong's allegation prompted Juan Mei-shu's life-long pursuit of the truth about her father's fate, which lead to the establishment of the Juan Mei-shu 228 Incident Memorial Archive, a collection of documents and artifacts related to the massacre, and the publication of two monographs on the subject: Years of Solitude and Suffering (孤寂煎熬四十五年) and A Cry in the Dark (幽暗角落的泣聲).
However, other than positing that Juan Chao-jih was almost certainly killed following his disappearance, no definitive answer has emerged from research by Juan Mei-shu or academics.
Upon hearing of Juan Mei-shu's death, National Chengchi University history professor Hsueh Hua-yuan (薛化元), who is chairman of the 228 Memorial Foundation, said he grieved the death of a friend he was close to for three decades, adding that he had been unable to commemorate her on social media because he was at a loss for words.
"Her works vividly illustrated the experiences of 228 Incident victims' families, and it is deeply saddening that she has passed before the truth about her father's death could be revealed," Hsueh said.
Mourners can pay their respects at Juan Mei-shu's residence in Taipei starting today, and a public memorial is to be held at the Taipei Second Funeral Parlor on Dec. 17.
Comments will be moderated. Keep comments relevant to the article. Remarks containing abusive and obscene language, personal attacks of any kind or promotion will be removed and the user banned. Final decision will be at the discretion of the Taipei Times.