KMT chairwoman says DPP is on a 'witch hunt'
MEANS AND ENDS The DPP is only interested in political hegemony and is attempting to eliminate the KMT using transitional justice as a cover, KMT Chairwoman Hung said
Chinese Nationalist Party (KMT) Chairwoman Hung Hsiu-chu (洪秀柱) yesterday accused the Democratic Progressive Party (DPP) government of seeking to launch a politically motivated witch hunt under the banner of "transitional justice."
Hung said only the KMT has managed to achieve actual transitional justice.
"The KMT has cultivated Taiwan for more than 60 years, making the nation one of the four Asian tiger economies and also, through former president Chiang Ching-kuo's (蔣經國) lifting of bans on newspapers and political parties, transformed the Republic of China [ROC] from authoritarianism to democracy," Hung said.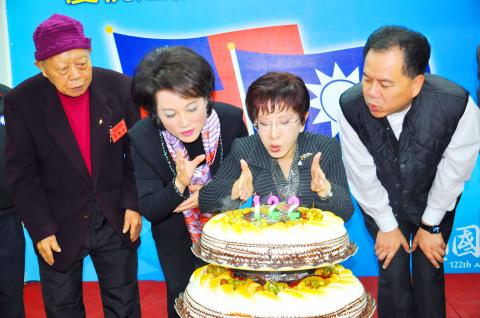 Chinese Nationalist Party (KMT) Chairwoman Hung Hsiu-chu, second right, and KMT Chiayi City Council Speaker Hsiao Shu-li, second left, blow out candles during an event to celebrate the 122th anniversary of the founding of the KMT's predecessor the Revive China Society in Chiayi County yesterday morning.
Photo: Wang Shan-yan, Taipei Times
"This is what we call genuine transitional justice," Hung said, adding that the DPP administration's oft-trumpeted efforts to push for transitional justice are nothing but a sugarcoated political witch hunt.
Hung made the remarks on the sidelines of an event held by the party's Chiayi County chapter yesterday morning to celebrate the 122th anniversary of the founding of the KMT's predecessor the Revive China Society.
The event came two days after the Executive Yuan's Ill-gotten Party Assets Settlement Committee ordered the KMT to transfer to the government all its rights to shares issued by Central Investment Co (中央投資公司) and Hsinyutai Co (欣裕台), after concluding that the two companies were founded using illegally obtained assets.
Hung said since the KMT failed to do a good job in some aspects and given the public's yearning for a new government that could bring hope and new prospects, it was natural for the party to be voted out of office under a democratic system.
"But what has the DPP government done since taking office? The first thing it did was launch a witch hunt against the KMT in the hopes of eliminating the party and realizing its goal of political hegemony," Hung said.
At a separate celebratory event in Chiayi, Hung said that the KMT has already dealt with its problematic properties after former president Chen Shui-bian (陳水扁) of the DPP conducted a sweeping investigation into the party's assets during his eight-year presidency.
"The DPP has forced the Act Governing the Handling of Ill-gotten Properties by Political Parties and Their Affiliate Organizations (政黨及其附隨組織不當取得財產處理條例) through the legislature, but has denied the KMT the right to file a list of its assets within a year in accordance with the act," Hung said.
"Only bandits would unilaterally seize all of someone's assets," Hung added.
Comments will be moderated. Keep comments relevant to the article. Remarks containing abusive and obscene language, personal attacks of any kind or promotion will be removed and the user banned. Final decision will be at the discretion of the Taipei Times.