KMT-CCP forums will continue: Hung
EYE ON FUTURE: Hung Hsiu-chu told cheering supporters at Taiwan Taoyuan International Airport that she had gained a lot from her exchanges with Chinese officials in Beijing
The Chinese Nationalist Party (KMT) will continue to hold an annual cross-strait forum with the Chinese Communist Party (CCP) to maintain cross-strait peace and interactions, KMT Chairwoman Hung Hsiu-chu (洪秀柱) said yesterday after arriving in Taoyuan from a trip to China.
Hung landed at Taiwan Taoyuan International Airport at about 5pm, where supporters greeted her chanting "Sister Chu Chu [Hung's nickname], I love you!"
"During my five-day visit, we were welcomed enthusiastically. Sincerity and goodwill were demonstrated by both sides at my meeting with the leader on the other side of the Taiwan Strait [Chinese President and CCP General Secretary Xi Jinping (習近平)]. The Taiwanese businesspeople and students I met also recognized our efforts and expressed hope that cross-strait exchanges be continued," she said.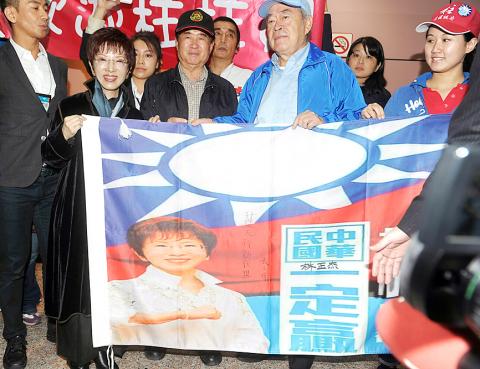 Chinese Nationalist Party (KMT) Chairwoman Hung Hsiu-chu, second left, yesterday poses with supporters after her arrival at Taiwan Taoyuan International Airport upon her return from China.
Photo: CNA
Eight cities and counties governed by the pan-blue camp or independents are to sponsor a tourism and cultural exhibition in China at the end of this year as a result of this week's KMT-CCP forum in Beijing, Hung said.
The KMT would continue to push for things that are conducive to the welfare of Taiwanese, she added.
A delegation of six KMT and two independent local government leaders visited Beijing in September, where they offered their acceptance of the so-called "1992 consensus" in exchange for preferential tourism treatment by China.
Before leaving Beijing yesterday, Hung visited the Taiwan Hall in the Great Hall of the People, where she said that the current atmosphere across the Taiwan Strait prompted the KMT to attempt new breakthroughs.
"It is an unshakable responsibility that we will not pass on to others… However, the mountain top cannot be reached in a single leap," Hung said, adding that moving cross-strait relations forward required step-by-step effort, continuous communication, exchanges and mutual empathy.
Hung said that she has gained a lot from her exchanges with Chinese officials during her trip, expressing confidence that these gains would be helpful to future interactions and peaceful and stable development across the Strait.
Hung and her delegation first visited Nanjing to pay tribute to Republic of China founder Sun Yat-sen (孫中山) at his mausoleum, before heading to Beijing.
She met with Xi on Tuesday and then attended the two-day Cross-Strait Peaceful Development Forum.
The KMT and CCP annual forums began in 2006, after former vice president and then-KMT chairman Lien Chan (連戰) visited China in April 2005.
The so-called "1992 consensus," a term former Mainland Affairs Council chairman Su Chi (蘇起) admitted to making up in 2000, refers to a tacit understanding between the KMT and Beijing that both sides of the Strait acknowledge there is "one China," with each side having its own interpretation of what "China" means.
Comments will be moderated. Keep comments relevant to the article. Remarks containing abusive and obscene language, personal attacks of any kind or promotion will be removed and the user banned. Final decision will be at the discretion of the Taipei Times.