KMT shuns National Day ceremony
NO SHOWS: Caucus convener Liao Kuo-tung said the KMT is simply following the precedent set by the DPP's caucus during former president Ma Ying-jeou's terms in office
The Chinese Nationalist Party (KMT) caucus yesterday said that it would not attend today's Double Ten National Day celebrations, but shrugged off any link between its decision and the Democratic Progressive Party (DPP) administration's ongoing hunt for the KMT's ill-gotten assets.
"The KMT caucus has decided not to attend tomorrow's Double Ten National Day ceremony since the DPP caucus was absent from such events when the KMT was in power," KMT caucus convener Liao Kuo-tung (廖國棟) said.
Asked whether the decision was prompted by efforts by President Tsai Ing-wen's (蔡英文) administration to recover the KMT's ill-gotten assets, Liao said: "Why would it have anything to do with party assets?"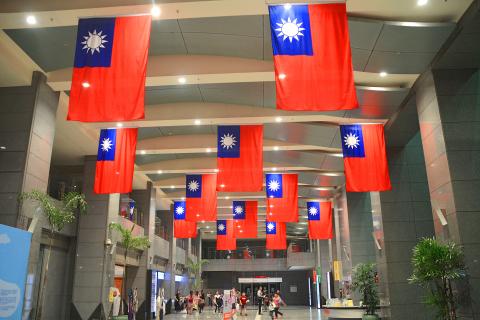 Republic of China flags decorate Taipei City Hall's foyer yesterday ahead of today's Double Ten National Day.
Photo: CNA
The decision is primarily due to the DPP's disrespect of minority parties and its absence from previous Double Ten National Day celebrations, Liao said.
The KMT's attendance at future National Day ceremonies will hinge on the DPP's behavior, Liao said, adding that it would make an appearance should the ruling and opposition parties reach a reconciliation.
DPP caucus chief executive Wu Ping-jui (吳秉叡) said it would be better for the KMT caucus to boycott the ceremony than to try to sabotage it.
New Power Party caucus convener Hsu Yung-ming (徐永明) said he would represent the caucus at today's celebrations.
As access to the Double Ten National Day ceremony, which is to take place in front of the Presidential Office Building from 9am to noon, is closed to the public, the Ministry of the Interior is encouraging people to watch online (www.youtube.com/watch?v=VQCApNs7LNw&feature=youtu.be).
Among the politicians who are to attend today's ceremony are former president Ma Ying-jeou (馬英九), former vice president Wu Den-yih (吳敦義), People First Party Chairman James Soong (宋楚瑜) and Republican Party Chairwoman Hsu Hsin-ying (徐欣瑩).
The Taichung Prison yesterday afternoon said that it had not approved an application by former president Chen Shui-bian (陳水扁), who is on medical parole, to attend.
KMT Chairwoman Hung Hsiu-chu (洪秀柱) declined to attend without giving an explanation.
KMT Culture and Communications Committee director Chow Chi-wai (周志偉) downplayed speculation that Hung's no-show is also due to the handling of the KMT's potential ill-gotten assets.
"It is natural for the public to harbor such an opinion, but I am not going to comment on this. All I know is that Ms Hung will not be attending tomorrow morning's ceremony," Chow said.
Tsai only attended National Day celebrations once during Ma's two terms in office, in October last year, when she decided to show up as part of her call for political reconciliation and tolerance.
Comments will be moderated. Keep comments relevant to the article. Remarks containing abusive and obscene language, personal attacks of any kind or promotion will be removed and the user banned. Final decision will be at the discretion of the Taipei Times.