Sky not made in China: protest stickers at ICAO
Taiwanese expatriates in Canada yesterday pasted protest stickers around the International Civil Aviation Organization's (ICAO) Montreal headquarters, condemning the ICAO for excluding Taiwan from the organization's three-yearly assembly.
Numerous small handmade stickers emblazoned with the slogan "The sky is not made in China" in French and English were stuck to nearby parking meters using clear tape.
"When you throw a pebble into a pool, it might not even make a ripple, but I still felt that this should be done," said the person who made the stickers, who asked to remain anonymous.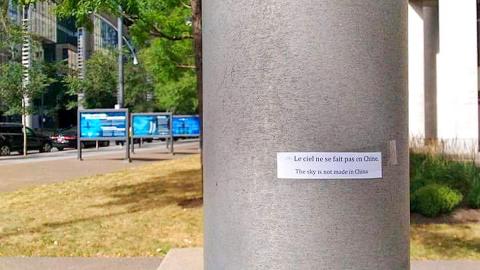 A piece of paper on which "The sky is not made in China" is printed in French and English is affixed to a parking meter outside the International Civil Aviation Organization's headquarters in Montreal, Quebec, yesterday.
Photo: CNA
He added that he hopes more Taiwanese will participate to increase the chances of having an effect.
"That expatriates care this much is really moving," said an official at the Taipei Economic and Cultural Office in Canada, who also asked to remain anonymous.
The office said it welcomed actions by Taiwanese expatriates to make international society "wake up" to Taiwan's unjust treatment, while calling for all measures to be peaceful and legal.
The Ministry of Foreign Affairs said it respected the rights of Taiwanese expatriates to freely express their views and was hopeful that there would be more "voices for justice" to highlight that the nation's inability to participate in the ICAO assembly was fundamentally unreasonable.
It added that it hoped Taiwanese expatriates would adopt peaceful methods and abide by the law.
The ICAO's 39th assembly began on Tuesday and is to conclude on Friday.
Taiwan was not invited to the event, most likely because of the objections of Beijing.
About 30 of Montreal's Taiwanese residents had previously protested outside of the ICAO's headquarters when the assembly convened.
Comments will be moderated. Keep comments relevant to the article. Remarks containing abusive and obscene language, personal attacks of any kind or promotion will be removed and the user banned. Final decision will be at the discretion of the Taipei Times.