PROFILE: Audrey Tang: 100% made in Taiwan
Audrey Tang (唐鳳), at 35 already a retired entrepreneur and self-taught computer programmer who is considered one of Taiwan's brightest, is set to add another line of code to her resume: In October, she is to join the Cabinet as a minister without portfolio.
Tang, who will be the Executive Yuan's first transgender official, founded her own company at the age of 16 despite dropping out of junior-high school.
Tang — who reportedly has an IQ of 180 — is a prominent member of groups using the Haskell and Perl programming languages and has contributed to the designs of systems such as Kwiki, Windows RT and Slash.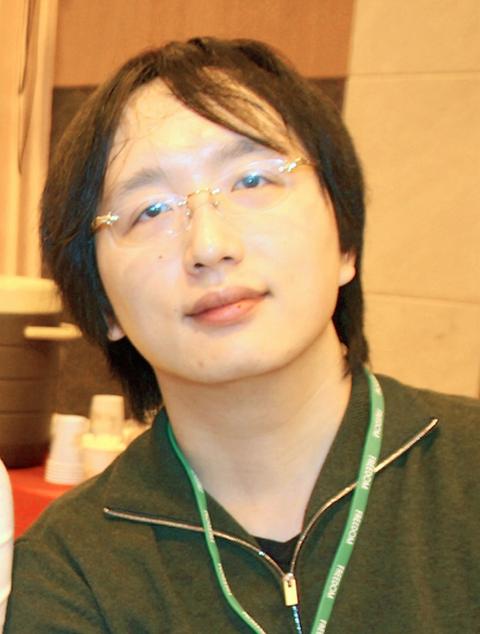 Audrey Tang, former adviser to BenQ and Apple, poses for a picture in an undated photo.
Photo: CNA
Her parents said that she was reading classic literature in a variety of languages and solving simultaneous equations by the time she was in first grade.
Unable to find her way in mainstream education, Tang is mainly self-taught and, having a knack for computers, she was able to harness the exponential growth of new technologies to advance her education.
Although some commentators have attributed Tang's successful effort to educate herself to her high IQ, improving Internet speeds and search engine software from 2000 onward played a great part in her achievements, said Tang's father, Tang Kuang-hua (唐光華).
The Internet has bridged the gap between the levels of education offered in urban and rural areas, Tang Kuang-hua said, adding proudly that Audrey did not travel abroad for her education, so she is 100 percent "made in Taiwan."
Audrey's experience should inspire children from less well-off families, he said.
However, Tang Kuang-hua said he and his wife, Lee Ya-ching (李雅卿), recognized the importance of an effective learning environment, critical thinking and the ability to state one's opinions and so they trained her in such areas by holding topical family discussions when she was young.
This, as well as her own contributions to online forums, have enabled Audrey Tang to develop her eloquence and persuasiveness, Tang Kuang-hua said.
When Audrey Tang was eight, her family were camping in a forest when she saw a boy tormenting insects, and she began to cry, her father said.
It was this incident that made the family realize that Audrey was kind and "very sensitive to pain in life," he said, adding that many of her most recent activities were influenced by this characteristic.
Having founded her own business at 16, Audrey Tang announced her "retirement" at the age of 33 and devoted her time to Internet public welfare projects, such as the g0v.tw platform, and the promotion of the vTaiwan platform.
That the government is asking Audrey Tang to take a position in the Cabinet means that it has noticed the "differences" between the older and the younger generation, her father said.
Using the development of computer software as an example, Tang Kuang-hua said the world has departed from the era when Microsoft dominated the market, and now more "freeware" is available, which demonstrates that the younger generation values the "shared economy."
The sentiment was echoed by former National Development Council (NDC) minister Kuan Chung-ming (管中閔), who said that the appointment of Audrey Tang to the Cabinet is proof that President Tsai Ing-wen's (蔡英文) administration has astutely grasped the difference between generation Y and earlier generations and wishes to embrace the changes.
The government's decision to invite Audrey Tang to join the government is a game-changing decision in light of the rapid changes in the IT industry, Kuan said.
However, he added that he hoped the government is not asking his daughter to take the position for the wrong reasons.
Her appointment is a landmark in gender equality, as she underwent gender reassignment surgery in 2005.
Audrey Tang has said she always identified as female and when she was 25, she changed her name from Autrijus Tang (唐宗漢) to Audrey Tang.
Tang Kuang-hua said he and his wife were initially surprised when they heard of Audrey's decision to undergo surgery, but have backed her unconditionally.
In light of the increasing debate over gender issues in Taiwan, citing her own experiences, Audrey Tang has suggested that parents be more open to the gender identification of their children, adding that they should listen more, as it would help parents and children to understand each other better.
Additional reporting by Lee Hsin-fang
Comments will be moderated. Keep comments relevant to the article. Remarks containing abusive and obscene language, personal attacks of any kind or promotion will be removed and the user banned. Final decision will be at the discretion of the Taipei Times.