Garbage trucks disrupt classical concert
GOOD-HUMORED: Japanese conductor Joe Hisaishi stopped the orchestra and waited for the garbage truck to finish its tune, before bowing in its general direction
Garbage trucks on Saturday inadvertently disrupted a performance by the New Japan Philharmonic World Dream Orchestra in the National Taiwan University Sports Center when they started loudly playing prerecorded tunes that signal waste collection, sparking outrage from classical music fans attending the event.
The internationally renowned orchestra was performing in the sports center when the trucks came to collect trash and recycling, playing music that twice disrupted musicians, sources said.
City garbage trucks play Ludwig van Beethoven's Fur Elise and Tekla Badarzewska-Baranowska's A Maiden's Prayer at each collection stop to alert residents of collection times.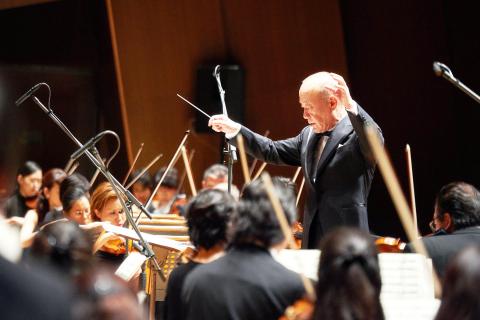 Composer Joe Hisaishi conducts the New Japan Philharmonic World Dream Orchestra at the National Taiwan University Sports Center on Sunday.
Photo courtesy of BigArt
The truck music reportedly surprised conductor Joe Hisaishi, who looked around the venue for its source before giving up and waiting for the tune to finish. He then smiled and gave a polite bow in its general direction before resuming the performance, a gesture that earned him applause from the audience.
However, netizens flooded the Facebook page of BigArt, the concert's organizer, with angry posts, saying the company showed no regard for acoustics while selecting the venue and failed to anticipate the scheduled garbage collection, which showed no respect to ticket-buyers or performers.
"They lost our face to the world," one netizen said.
"Now I have listened to garbage trucks for the first time during a concert; I will remember this for the rest of my life," another said.
BigArt said the acoustic problems and the arrival of garbage trucks between 8pm and 9:10pm were known to Japanese organizers, and they had tried adjusting the schedule, but withheld the information from the musicians to "avoid affecting their performance."
BigArt said that it had told Japanese organizers that the National Theater and Concert Hall were unavailable, and the orchestra said that background noises should not cause problems.
It said that Hisaishi asked staff members about the noise in a curious way and joked about it after the performance.
BigArt said that it accepts public criticisms and would use them to improve its conduct.
Formal concerts are usually performed at professional venues, but even purpose-built concert halls could be overwhelmed by unwanted noise, National Taiwan Symphony Orchestra chief of marketing and planning Huang Fu-ming (黃馥茗) said.
Huang said a performance by the symphony orchestra was once interrupted by fireworks near a venue, adding that such situations can only be averted by coordinating with city authorities and organizers of other events.
Universal Music Taiwan Ltd director of jazz and classical music Bernard Fu (傅慶良) said the sports center is not designed to host musical performances and coordination is necessary if a orchestra performs at the venue.
"The concert could have taken place on days when there are no garbage collection, like Wednesdays or Sundays, or they could have asked trucks not to play music when they were in the neighborhood," Fu said.
Fu added that the incident is unusual because in Taiwan, complaints are typically made by local residents against the concert organizers and performers, citing the example of pop singer A-mei's (張惠妹) concert at the Taipei Arena last year.
Additional reporting by Kuo An-chia
Comments will be moderated. Keep comments relevant to the article. Remarks containing abusive and obscene language, personal attacks of any kind or promotion will be removed and the user banned. Final decision will be at the discretion of the Taipei Times.