Skywalk opened to bolster Baguashan
WARNING SIGNS: Locals said the bridge has revived tourism, but visitors said that the bridge was shaking in some sections and there was a lack of safety personnel
A new skywalk opened on Changhua County's Baguashan (八卦山) yesterday, with thousands of visitors lining up to inaugurate the longest skywalk in central Taiwan.
The 1,006m Baguashan Skywalk, which cost more than NT$80 million (US$2.48 million) and took 22 months to build, starts from a 26m-tall Buddha statue and passes over an ecological park, a baseball stadium and a local high school before ending at the National Changhua Living Art Center.
The county government constructed the skywalk to draw attention to the landscape of Baguashan, which is often described as the county's top destination.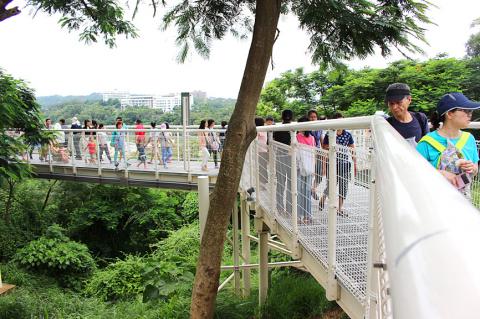 Visitors walk on the Baguashan Skywalk in Changhua County yesterday.
Photo: Chang Tsung-chiu, Taipei Times
The bridge has a deck height of between 1m and 16m.
On some parts of the bridge there are stairs connecting to trees so that visitors can climb into the treetops.
There are no admission charges during the initial opening period, but during that time only four of the seven entrances to the bridge are open, as three entrances from the Changhua Arts Senior High School are closed for safety reasons.
Locals said the bridge has revived tourism on Baguashan, which had more visitors yesterday than it had on any day during the Lunar New Year holiday period.
However, a visitor surnamed Tsai (蔡) from Taichung's Wuchi District (梧棲) said the bridge's management should have put more personnel in charge of visitor safety.
A visitor surnamed Chen (陳), who has visited a skybridge in Chiayi County's Jhuci Township (竹崎), said the Baguashan skywalk was better, but the bridge was shaky in steep sections — possibly because there were too many visitors.
"The number of visitors must be carefully managed, and safety measures must be in place to control visitor flow," Chen said.
"Whether the bridge is worth NT$80 million can only be judged with time. The bridge can sustain tourism development if it brings in enough tourists over an extended period. The county government can build more tourism facilities along the skywalk, such as turning old buildings under the bridge into cafes or restaurants," said a visitor surnamed Yang (陽) from Taichung's Shalu District (沙鹿), who works in architecture.
Changhua County Commissioner Wei Ming-ku (魏明谷) said Baguashan is the county's "sacred mountain," and its ecological resources and relatively even terrain make the mountain an attraction for visitors both young and old.
While the bridge is designed to take 10,000 visitors, only 2,000 visitors are allowed to be on the bridge at any one time to avoid congestion and consequent discomfort, Changhua Department of City and Tourism Director Tien Fei-peng (田飛鵬) said.
Warning signs have been erected at some sections of the bridge to prevent visitors from lingering to avoid congestion, Tien said, adding that the bridge is designed to resist earthquakes, gusts of wind and torrential rain.
Comments will be moderated. Keep comments relevant to the article. Remarks containing abusive and obscene language, personal attacks of any kind or promotion will be removed and the user banned. Final decision will be at the discretion of the Taipei Times.