Northern Taiwan bakes under heat
SUMMER RETURNS: The high temperatures across the north of the island were mainly caused by a southwest wind and a low cloud volume, a CWB forecaster said
A southwest wind and a downdraft air stream brought scorching heat to northern Taiwan yesterday, with some cities reporting their highest temperatures recorded so far this year.
Central Weather Bureau forecaster Chang Hsin-hua (張心華) said the hot weather was mainly caused by a southwest wind, which brings in warmer air, and a low cloud volume.
In addition, a downdraft air stream also contributed to the high temperatures, she said, adding that seven cities saw their highest temperatures recorded so far this year.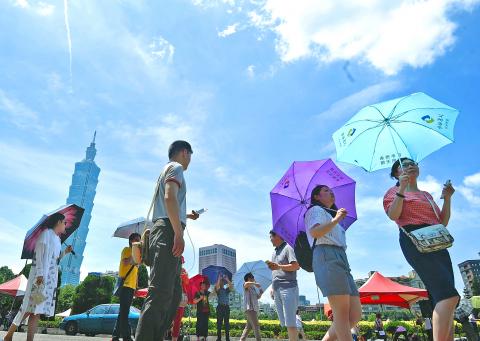 People walking in Taipei yesterday hold umbrellas to shade themselves from the sun as the city recorded temperatures exceeding 36oC.
Photo: Fang Pin-chao, Taipei Times
According to Chang, the temperature in Taipei rose to 36.7oC at 12:39pm. Temperatures reached 36.4oC in Keelung, 36.2oC in New Taipei City's Banciao District (板橋), 34oC in Hsinchu, 33.7oC in Yilan and 33.5oC in New Taipei City's Tamsui District (淡水).
The mercury climbed to 37.3oC in Taitung County's Dawu Township (大武) because of a foehn wind, Chang said.
Despite the high temperatures, none of them exceeded the highest May temperature on record, which was recorded in Taitung on May 9, 2004, when the mercury hit 40.2°C.
Chang said that today's temperature is forecast to drop a little because of a change in wind — from the southwest to the north — with highs on the west coast expected to reach between 33oC and 34oC.
She said that the temperature is forecast to rise again nationwide on Wednesday due to the return of a southwest wind, before dropping on Thursday with a frontal system forecast to approach the nation.
The frontal system would affect the weather in the nation from Friday to Sunday and lower the temperature nationwide, Chang said, adding that the high temperature is to be between 29oC and 30oC in the north, 32oC in central areas and 32oC in the south.
Comments will be moderated. Keep comments relevant to the article. Remarks containing abusive and obscene language, personal attacks of any kind or promotion will be removed and the user banned. Final decision will be at the discretion of the Taipei Times.