KMT names intelligence agent secretary-general
'JUMPING INTO A FIRE PIT': Mo Tien-hu previously worked in domestic security for the Investigation Bureau. KMT critics worry because he has no direct party experience
The appointment of National Immigration Agency Director-General Mo Tien-hu (莫天虎), who has an intelligence background, to the position of Chinese Nationalist Party (KMT) secretary-general has set some tongues wagging.
The KMT's Central Standing Committee approved the appointment on Wednesday. Mo, who has applied for retirement, is slated to take over the position with the KMT on Monday.
Mo has worked at the Ministry of Justice's Investigation Bureau as director of the Taipei City Field Office Shihlin Station, Hualien County Station and Tainan City Station, the deputy director of the bureau's Domestic Security Field Office, deputy director of the Kaohsiung City Field Office, director of the Tainan City Field Office and director of the Domestic Security Field Office.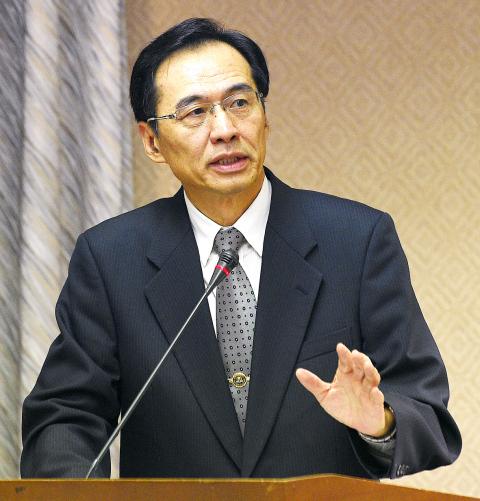 National Immigration Agency Director-General Mo Tien-hu, who is to take over as Chinese Nationalist Party (KMT) secretary-general on Monday, is pictured in an undated photograph.
Photo: Chen Chih-chu, Taipei Times
In a goodbye statement issued to his colleagues on Wednesday, Mo said the new role is expected to be "full of difficulties and challenges, which would amount to jumping into a fire pit."
However, fawning over the powerful is not his thing, he said.
"Offering help when someone is in trouble is what I love doing. I always believe that achievements can only be made with a bit of foolish gung-ho, which I have," Mo said.
A dedicated Christian, Mo said, "facing an unknowable future, I will give it all to God."
The appointment surprised the media, KMT members and lawmakers, who said they are unfamiliar with Mo, who has never worked in the party system, and are therefore skeptical about his ability to coordinate the party and the caucus.
KMT committee member Yao Chiang-lin (姚江臨) said it is within the chairperson's authority to make personnel appointments, but based on experience, it does not work well if the party secretary-general is someone who had no direct experience of working with the party.
KMT caucus whip Lin Te-fu (林德福), who doubles as the party's deputy secretary-general, said although Mo had worked mostly with investigative units, he could facilitate communications with the party lawmakers by interacting with them more.
However, some joked that Mo's intelligence background would probably make lawmakers and committee members nervous.
KMT spokeswoman Wang Hong-wei (王鴻薇) yesterday said party members are all in the same boat and should not criticize the party.
Media personality Clara Chou (周玉蔻) on Wednesday wrote on Facebook that the appointment reminded her of the Chiang Kai-shek (蔣介石) era, during which intelligence officials were also party heavyweights greatly depended upon by Chiang.
Democratic Progressive Party (DPP) Legislator Wang Ting-yu (王定宇) said that while society still fears intelligence is being used for political purposes, Hung's appointment of an intelligence official to KMT secretary-general is reconnecting the intelligence system to the party.
"This is [democratic] regression," he said.
DPP Legislator Pasuya Yao (姚文智) said Mo's appointment was a surprise to him, but added that with Mo's background, he could be expected to conduct a thorough examination of the KMT's assets, which some suspect might have been embezzled by private individuals.
Former Deputy Legislative Speakers' Office director Chiao Cheng-chung (喬正中), who has been one of Hung's aides for almost 20 years, had also worked as an agent with the investigation bureau.
Chen Hang-sheng (陳杭升), who was appointed early last month by Hung to serve as the head of the KMT's Administration and Management Committee, also has an intelligence background.
The appointment has spawned some discussion within the party as to whether Hung is to rely on Chen's expertise to discipline the party.
Comments will be moderated. Keep comments relevant to the article. Remarks containing abusive and obscene language, personal attacks of any kind or promotion will be removed and the user banned. Final decision will be at the discretion of the Taipei Times.