NPP urges calm on death penalty
'EXECUTE': The party spoke to Taiwan Children's Rights Association director-general Wang Wei-chun, who said that she hopes the suspect gets the heaviest sentence
The New Power Party (NPP) has yet to form a definitive stance on capital punishment, but is to make an announcement tomorrow after meeting with children's rights advocates and experts, NPP Chairman Huang Kuo-chang (黃國昌) said yesterday.
"We will not promote a policy [on abolishing the death penalty] when society has yet to reach a consensus on the matter," he said.
Huang met yesterday afternoon with Taiwan Children's Rights Association director-general Wang Wei-chun (王薇君), who sought the party's support in pushing for more legislation to protect children's rights.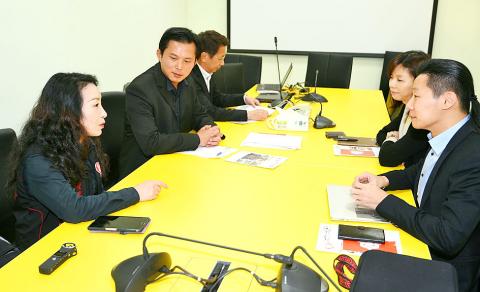 Taiwan Children's Rights Association director-general Wang Wei-chun, left, speaks with New Power Party members in Taipei yesterday.
Photo: Chang Chia-ming, Taipei Times
The party has become a target of criticism following the grisly murder of a four-year-old girl on Monday morning in Taipei's Neihu District (內湖) because of NPP Legislator Freddy Lim's (林昶佐) support for the abolition of capital punishment.
The party said it had proposed policies on 14 different issues, not including eliminating capital punishment.
Lim said that discussions on whether the nation should abolish the death penalty at this time would only blur the focus, which should be to better protect the family of the murdered girl from further harm.
However, he reiterated that his ideal was that the nation would ultimately abolish capital punishment.
After his meeting with Wang, Huang said that all parties should work to protect the rights of children, because the issue covers several aspects.
"We should ask whether the government has enough resources to fund the mechanism through which similar crises can be reported," Huang said.
"The standards and procedures we use to compel people with mental health issues to seek treatment must be reasonable and thoroughly enforced," he said.
"People affected by abusive crimes should be protected by a dedicated agency," he added. "The functions of correctional facilities should be enhanced."
"All these are issues that need to be discussed calmly to prevent another tragedy," Huang said.
Wang, who is an aunt of a child who died from physical abuse, said she hopes that all legislative caucuses could focus more attention on child safety issues.
She said the association has appealed to lawmakers for years to jointly work on the cause, but nothing has changed.
"It does not help much if we only condemn the perpetrator after what has happened," Wang said.
"We hope that the number of cases involving abuse or murder of minors could be reduced to zero," she said.
Wang said she supports the death penalty and hopes that the suspect in this case would receive the heaviest sentence, with a caveat that the nation must have a just judicial system in which no one is wrongfully convicted.
Commenting on Chinese Nationalist Party (KMT) Legislator Alicia Wang's (王育敏) proposed amendment to the Criminal Code — automatic death penalty or life imprisonment for those who kill children aged less than 12 — she said it would not be much different from the law as it stands.
"The point is: How many of the proposed amendments to the Criminal Code would change what has already happened," Wang Wei-chun said.
"Also, would supporters and opponents of the death penalty talk to each other and see what they can do to bring about judicial reform," she added.
Comments will be moderated. Keep comments relevant to the article. Remarks containing abusive and obscene language, personal attacks of any kind or promotion will be removed and the user banned. Final decision will be at the discretion of the Taipei Times.