Chiang escapes vote-buying charges
JUST BEING POLITE: Giving gifts 'proportional to social etiquette' during traditional holiday celebrations does not constitute bribery, KMT Legislator Chiang Wan-an said
The Taipei District Prosecutors' Office yesterday said it would not press charges against Chinese Nationalist Party (KMT) Legislator Chiang Wan-an (蔣萬安) after wrapping up its investigation into vote-buying allegations.
Independent candidate Billy Pan (潘建志), a psychiatrist and political commentator, who lost the Jan. 16 legislative election to Chiang in Taipei's Songshan (松山) and Zhongzheng (中山) districts, had accused Chiang of offering prizes at public events to solicit votes.
The office said there was insufficient evidence that Chiang engaged in vote-buying.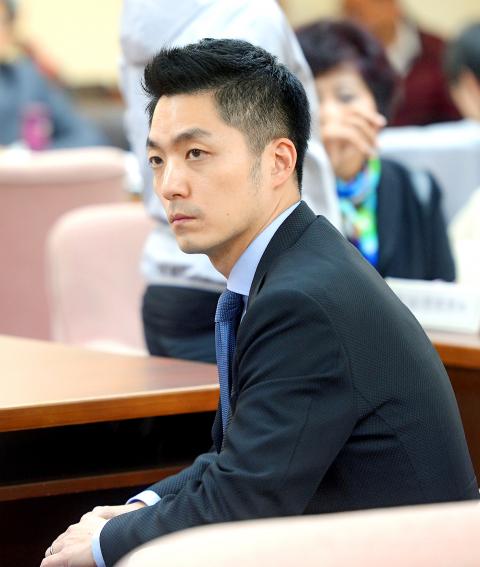 Chinese Nationalist Party (KMT) Legislator Chiang Wan-an is pictured on March 10.
Photo: Lin Cheng-kung, Taipei Times
However, Chiang is not yet cleared from election-related litigation, since Pan had also filed a civil suit to nullify the election result, with the Taipei District Court scheduled to start its hearing next month.
Chiang Wan-an is the son of former KMT vice chairman John Chiang (蔣孝嚴) and grandson of former president Chiang Ching-kuo (蔣經國).
Pan accused Chiang Wan-an of providing prizes for raffles, including bicycles and electric fans, at three traditional holiday events in September and November last year, as the campaign for the legislative elections began to heat up.
Armed with photographs, video recordings and other materials provided by the public, Pan went to the Taipei District Prosecutors' Office on Nov. 28 last year and asked prosecutors to investigate alleged "vote-buying activities" by Chiang Wan-an.
The videos and photographs showed Chiang Wan-an giving away prizes, which had labels bearing his name, during the three public events. He also addressed the crowd and called for support in January's elections.
Pan said the events were organized by local boroughs in the legislative election district that the two were contesting, and only local borough residents were eligible for the raffle prize draw.
It therefore constituted "bribery" of eligible voters with gifts in exchange for their votes, Pan said.
In the video recording, Chiang Wan-an's campaign office manager, Chuko Fen (諸葛芬), was shown handing out prizes to raffle draw winners and calling on residents to cast their votes for Chiang.
Chiang Wan-an, a lawyer, said he did participate at the three events and provided prizes for the raffle draws.
However, providing gifts "proportional to social etiquette" during traditional holiday celebrations does not constitute bribery under election regulations, he said, adding that he was only a "passive" participant at the time, having been invited by local borough wardens who organized the events.
Chiang also said Pan's allegations of vote-buying were "insulting to voters' intelligence," and decried such "negative campaign tactics."
Comments will be moderated. Keep comments relevant to the article. Remarks containing abusive and obscene language, personal attacks of any kind or promotion will be removed and the user banned. Final decision will be at the discretion of the Taipei Times.