Academics reject claim draft legislation targets KMT
A proposed bill to address the Chinese Nationalist Party's (KMT) allegedly illegal party assets is in fact a special draft act intended to address injustices committed in an era of autocratic rule, academics said in response to the KMT's claim that the legislation was "specifically targeting" the party.
The draft legislation on oversight and management of political party assets, along with the KMT's version, passed the legislature's first reading and was referred to a legislative committee last week.
New Power Party (NPP) Legislator Freddy Lim (林昶佐) held a public hearing, in which academics and experts debated the bill.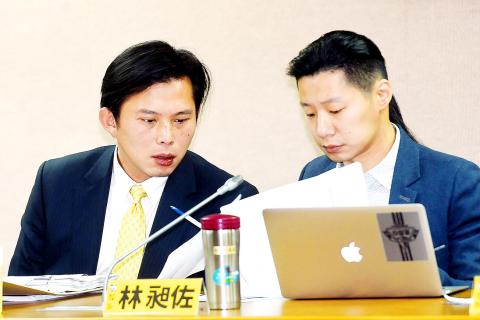 New Power Party (NPP) Chairman Huang Kuo-chang, left, and NPP legislator Freddy Lim on Friday study documents at a public hearing organized by the party to address the legislation of the handling of inappropriately obtained party assets.
Photo: Fang Pin-chao, Taipei Times
Chinese Culture University Department of Law director Hsu Hui-feng (許惠峰) said Article 4, Clause 5 of the KMT version — which stipulates that stock of all party-owned or businesses in which a party has invested, as well as funds received from sales of formerly owned businesses, should be considered "legal funding" — was a farce.
If the KMT version were to be accepted, it would be a "non-transitional justice" law, as it would leave nothing for the nation to demand as compensation, Hsu said, adding that the KMT's attempt to blatantly deceive the public should be condemned.
National Dong Hwa University professor Shih Cheng-feng (施正鋒) said that the draft "targets" the KMT, because there are no other Taiwanese political parties like it.
The KMT allegedly obtained its party assets through the theft of former Japanese-owned corporations, the expropriation of Taiwanese property and, in the case of its outlying organizations, outright takeovers, Shih added.
There is a strong public expectation for transitional justice, making this the best time to handle the KMT party assets issue, Shih said.
"If the Democratic Progressive Party (DPP) does not handle the issue now, [president-elect] Tsai Ing-wen (蔡英文) might not get a second term as president," Shih said.
As creation of an ad hoc committee to deal with ill-gotten party assets in the Legislative Yuan might create distrust between the two major political parties, the Presidential Office would probably provide a better platform for the committee, Shih said.
The president could appoint nonpartisan professionals to investigate the issue, which would help to mend fences between the DPP and KMT, Shih added.
Lim said that the draft legislation applied to all registered political parties, adding that no party could compare with the KMT, which seized national and private property and inappropriately managed or invested in various business.
NPP Legislator Huang Kuo-chang (黃國昌) said the current version of the draft act only defines "KMT-linked organizations," but what also need to be added are the process of how to identify those organizations and possible punishments for them.
Huang also said the committee should be authorized to offer immunity or rewards to former civil servants who are willing to cooperate with investigations, adding that people such as Liu Tai-ying (劉泰英), an aide to former president Lee Teng-hui (李登輝) who was convicted of embezzlement of public property, would be of immeasurable value to investigators.
Investigations should be expanded to cover private sector staff of former party-owned businesses, Huang said, adding that in many cases, these individuals would know more about companies' finances.
Liu, a former KMT member who was appointed by the party to chair the China Development Industrial Bank, was rumored to be the party's main go-to person for finance.
The bank, founded in 1959 in a joint venture with the World Bank and the government's Ministry of Economic Affairs, was the first bank founded with direct investment and corporate financing in Taiwan.
Comments will be moderated. Keep comments relevant to the article. Remarks containing abusive and obscene language, personal attacks of any kind or promotion will be removed and the user banned. Final decision will be at the discretion of the Taipei Times.