Tsai meets with Japanese envoy, Frank Murkowski
LUNCHEON PARTY: After a closed-door talk with Mitsuo Ohashi, the president-elected had lunch with scores of friends, family members, overseas supporters and guests
Interchange Association, Japan Chairman Mitsuo Ohashi was among the first foreign representatives to visit Democratic Progressive Party (DPP) Chairperson Tsai Ing-wen (蔡英文) yesterday to congratulate her on her election as president.
Having promised her supporters on Saturday night that the celebrations of the party's election win would only last one night and she would start work for her new office when the sun rose yesterday, Tsai had a busy day planned.
She met Ohashi behind closed doors and the DPP later issued a statement quoting Tsai as saying that "she was joyful that friends from Japan maintained good ties with the DPP even during the party's most difficult times in the past eight years."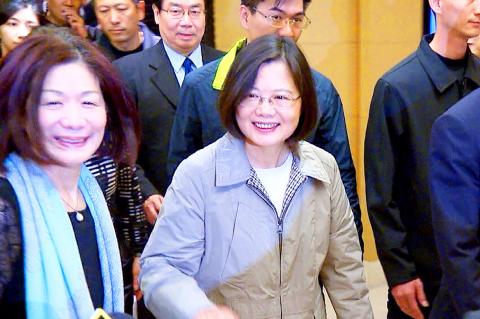 President-elect and Democratic Progressive Party Chairperson Tsai Ing-wen, front center, yesterday is accompanied by her sister, Tsai Ing-ju, left, as she heads to a luncheon at the Taipei Ambassador Hotel.
Photo courtesy of a member of the public
Tsai also said that further cooperation in economy and trade would be the key in future Taiwan-Japan relations, including resuming talks on a free-trade agreement, the statement said.
Tsai attended a luncheon for nearly 100 people, mostly members of her family, friends and overseas supporters at the Taipei Ambassador Hotel.
Former US senator and Alaska governor Frank Murkowski, who sat next to Tsai during the luncheon, said it was a relaxed occasion, and he had a pleasant conversation with her, but they did not touch on serious issues.
Murkowski said the future of the Taiwan-US relationship would be very solid, and the statement from the US Department of State following Tsai's victory was very positive.
As for the cross-strait relationship, Murkowski said it would be Beijing's call.
"The people in Taiwan have spoken, they have spoken in favor of democracy overwhelmingly," he told reporters outside the hotel.
If Beijing is smart enough, it should recognize that "the train is moving" and decide whether to get on, he said.
Throughout the day yesterday, hundreds of supporters poured into Tsai's campaign headquarters, waiting in long lines for a last chance to purchase campaign souvenirs.
Comments will be moderated. Keep comments relevant to the article. Remarks containing abusive and obscene language, personal attacks of any kind or promotion will be removed and the user banned. Final decision will be at the discretion of the Taipei Times.