ELECTIONS: Chu concedes, resigns as KMT chair
TOP BRASS QUIT: Vice chairman Hau Lung-bin stepped down after failing to secure a legislative seat in Keelung; spokesman Yang Wei-chung also announced his resignation
The Chinese Nationalist Party (KMT) yesterday lost the presidential election to the Democratic Progressive Party (DPP) by the second-biggest margin since the nation held its first direct presidential election in 1996, shattering KMT presidential candidate Eric Chu's (朱立倫) dream of keeping the party in power.
Chu, who had sought to win the presidency by branding himself as the nation's sole choice for cross-strait peace and stability, garnered 31.04 percent of the total vote, while his primary challenger, DPP candidate Tsai Ing-wen (蔡英文), received 56.12 percent.
According to Central Election Commission data, Tsai won 6.89 million votes, leading Chu — who received 3.81 million votes — by 3.08 million votes.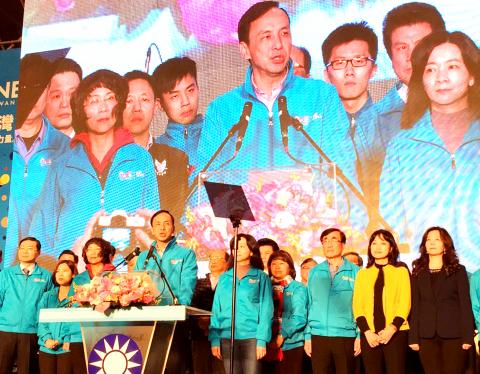 Chinese Nationalist Party (KMT) presidential candidate Eric Chu last night tells supporters gathered outside the party's headquarters in Taipei that he is resigning as KMT chairman following his defeat in yesterday's election.
Photo: CNA
The highest winning margin was recorded in the nation's first direct presidential election in 1996, when the KMT's candidate, President Lee Teng-hui (李登輝), beat his DPP challenger, Peng Ming-min (彭明敏), by about 3.5 million votes.
In the 2008 presidential race, the KMT's Ma Ying-jeou (馬英九) crushed former premier Frank Hsieh (謝長廷) of the DPP by approximately 2.2 million votes.
In his concession speech delivered at 7pm, Chu first apologized to his supporters for failing to live up to their expectations and for "failing to fulfill the KMT's obligation to safeguard the Republic of China" (ROC), before bowing for five seconds.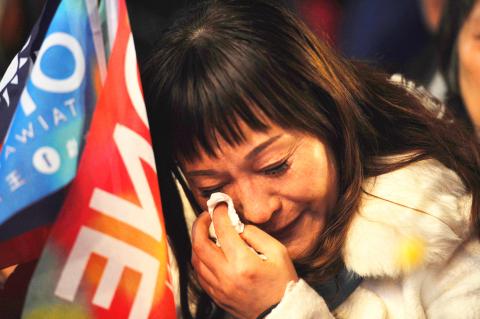 A Chinese Nationalist Party (KMT) supporter cries outside the party's headquarters in Taipei following the party's drubbing in yesterday's presidential and legislative elections.
Photo: CNA
"As both the chairman and presidential candidate of the KMT, I cannot shrink from my responsibility and must shoulder the blame. Dear friends, I have failed you. I will immediately resign from my post as KMT chairman," Chu said.
"No way, we will not allow you [to resign]. The [ROC] national flag must not fall," his supporters responded.
Extending his congratulations to Tsai on her victory, Chu said he hoped Tsai and the DPP would steer the nation toward a brighter and happier future, to which his supporters shouted: "Impossible."
Several KMT supporters shed tears as Chu spoke, with some leaving in the middle of his speech because "it is too sad to listen to this."
However, a number of elderly supporters disrupted Chu's speech, saying: "How dare you to keep talking after losing."
Chu then pledged to reflect on the KMT's defeat and the party's failure to be in sync with public opinion, while vowing to re-evaluate the party's policy direction and its selection of personnel.
"While we have lost the election, we still have an obligation to supervise the nation's future direction and development, the new government and the new ruling party. This is what a responsible opposition party should do," Chu said.
The loss marks the third time that the KMT has become an opposition party, after 2000's unprecedented victory by then-DPP presidential candidate Chen Shui-bian (陳水扁) that put an end to the KMT's nearly six-decade rule. Chen was re-elected in 2004.
It also deals a new blow to the KMT, whose disastrous defeat in the 2014 nine-in-one elections forced Ma to step down as KMT chairman.
A dismal atmosphere had been looming over the KMT's headquarters in Taipei since the polls closed at 4pm.
Only a handful of supporters arrived at the headquarters for an open-air rally and to watch a live video feed of the ballots being counted about an hour after the count started. The approximately 250 red plastic stools set up at the rally were not filled until after 6pm.
As Tsai's lead hit nearly 1.5 million votes at 5:30pm, Chu's campaign spokesmen, Lee Cheng-hao (李正皓) and Hsu Chiao-hsin (徐巧芯), attempted to lift the spirits of the crowd.
"Let us point our ROC national flags in the direction of Chu's office and cheer," Hsu said to the crowd, adding that Chu had arrived at the building at 2pm.
With the gap between Chu and Tsai continuing to widen, KMT spokesman Yang Wei-chung (楊偉中) announced his resignation on Facebook at 6pm, saying he had tendered his oral resignation earlier in the day.
"After tomorrow, let us continue to strive for Taiwan's freedom, equality and happiness," Yang wrote.
Former Taipei mayor Hau Lung-bin (郝龍斌) stepped down as a KMT vice chairman after failing to secure a legislative seat in Keelung.
Comments will be moderated. Keep comments relevant to the article. Remarks containing abusive and obscene language, personal attacks of any kind or promotion will be removed and the user banned. Final decision will be at the discretion of the Taipei Times.