Civic groups voice support for 'third force'
Representatives from more than 30 civic groups yesterday urged voters to support "third force" parties in the legislative elections on Saturday next week.
Members of the Anti-Poverty Alliance, Taiwan Environmental Protection Union, Garden of Hope Foundation and other groups stood outside the Legislative Yuan shouting slogans calling for voters to support "third force" parties with "ideals" and "civic consciousness," which they said represented the "hope of the nation" in a crucial election.
The groups endorsed the New Power Party (NPP), the Green Party-Social Democratic Party Alliance and the Trees Party (樹黨), with numerous representatives urging undecided voters to vote for the Alliance. The parties all have close ties with civic groups, whose members comprise the majority of their candidates and leadership.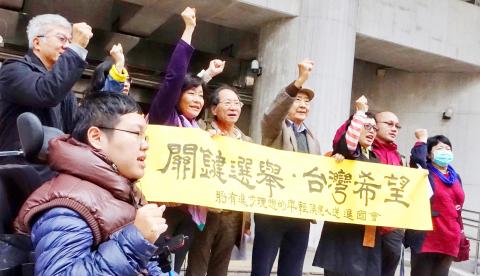 Anti-Poverty Alliance convener Chien Hsi-chieh, fifth right, Garden of Hope Foundation chief executive officer Chi Hui-jung, sixth right, and others raise their fists in support of "third force" candidates outside the legislature in Taipei yesterday.
Photo: Liu Hsin-de, Taipei Times
"We cannot see vision in any of the major parties and we know that during their governance over the last 16 years, they have backtracked on numerous promises they had made to the public," Promotion Alliance for a Just and Ecological Society convener Chang Tse-chou (張則周) said. "If we are to hope that Taiwan becomes a more just and democratic nation, we have to have a vision, and we can clearly see that the new political forces have such a vision and deserve our support."
The groups cited the unresponsiveness of the candidates from major parties as a reason for throwing their support behind "third force" parties.
"Many civic groups asked political parties to respond to questions on their policy stances or sign policy pledges during electoral campaigns, but unfortunately, we have seen that all of the presidential candidates are only willing to make oral commitments, refusing to put anything into writing," animal rights activist Ho Tsung-hsun (何宗勳) said. "Although there are numerous parties participating in the election, their idealism is far less than it was in the past."
The representatives said they welcomed the Democratic Progressive Party's (DPP) nomination of numerous former civic group members on its at-large legislative list, but said that they would be able to play only a limited role without substantial independent voices on the outside.
"We approve the DPP's large-scale recruitment from civic groups, but we have also discovered that because group members have to join the party when they enter the system, they cannot go against the party line on many issues. Because of this, they need to be there to voice different views from outside [the legislature] to act as a check [on the major parties] and give them strength," he said, adding that at-large legislators can be stripped of their seats by party leadership.
"If we rely too much on political parties to nominate civic group members, they will lead us around by the nose," he said.
Meanwhile, publisher Rex How (郝明義) also endorsed the Alliance and the NPP, introducing the parties' 27 candidates at an event that saw the founder of Locus Publishing unveil a Web site to promote the parties, including an e-book containing interviews with each of the candidates.
Comments will be moderated. Keep comments relevant to the article. Remarks containing abusive and obscene language, personal attacks of any kind or promotion will be removed and the user banned. Final decision will be at the discretion of the Taipei Times.