Remembering a 'man of unbending character'
"He views running newspapers as a conscientious enterprise," journalism professor Cheng Jim-ming (鄭貞銘) said about Rong San Lin (林榮三), founder of the Taipei Times and its sister newspaper, the Chinese-language Liberty Times, in his book titled A Century of Journalists.
Throughout his life, Lin had always stood by this credo, leading his employees by example.
Lin died yesterday afternoon of a tumor-induced cardiopulmonary failure. He was 76 years old.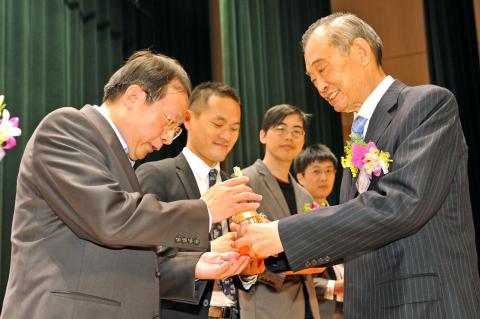 Rong San Lin, right, founder of the Taipei Times and the Liberty Times, presents the Eighth Lin Rung San Literary Award on Nov. 17, 2012.
Photo: Sean Chao, Taipei Times
Lin's contributions to the Liberty Times not only helped to transform it from a local newspaper with a readership based in Taichung to a newspaper with the largest circulation in the nation, but also shaped it into one of the most influential newspapers in Taiwan.
During the Liberty Times' formative years, Lin had often told his employees that running a newspaper is a resource-intensive business that requires capital and a large pool of talent, and that he would provide all necessary support to produce a newspaper capable of reflecting the opinions of all 23 million Taiwanese.
The Liberty Times has gone through every phase of journalism, including television news to the rise of Internet news, and Lin was a key figure for the newspaper for every challenge it met.

To live up to the goal of being the "voice of Taiwanese," he often reminded his employees to demonstrate journalistic professionalism; pay attention to every detail from newswriting to printing; and value their work ethics by approaching news reporting with an objective and unbiased attitude.
In addition to providing readers with fresh and unique perspectives on politics, democracy and economic development, Lin was also deeply concerned about the nation's struggle for international space and media coverage, which was why he founded the Taipei Times.
The Taipei Times is a key component of the Liberty Times Group and — through many years of hard work and cultivation — has not only become the central news outlet for foreigners visiting or living in Taiwan, but also an important guide for policymakers in Washington, Tokyo and elsewhere to current affairs in Taiwan.
With a vision of promoting the nation's democracy, freedom and restraint from the pursuit of political gain and partisan politics, Lin made consistent and profound contributions to the news industry.
As to Cheng's lauding him as the most prominent figure of the 20th century in the nation's news industry, Lin simply responded by saying: "It [news reporting] is an important task," and told his employees to "keep up [their] good work."
His words of encouragement are likely to be remembered by all of the staff at the Liberty Times Group.
Meanwhile, politicians from across the political spectrum yesterday expressed their condolences, including Legislative Speaker Wang Jin-pyng (王金平), who, reminiscing on his time with Lin on the legislature's Finance Committee, said Lin, with his tenures as legislator, Control Yuan vice president and Liberty Times Group founder, has earned his place in history.
"Lin was a man of unbending character," Wang said. "He could make a success of any career, as long as he put his mind to it, and he had a happy family. I envy him."
Chinese Nationalist Party (KMT) Chairman Eric Chu (朱立倫) and the Democratic Progressive Party (DPP) also expressed their "deepest condolences."
Chu praised Lin for his contributions to the nation and the public, adding that the Liberty Times has been a strong force in the nation's development.
"The Liberty Times that Mr Lin founded has become the most important platform for Taiwanese culture and values of democracy, which contributes greatly to promoting the freedom of the press, deepening of democracy in Taiwan and freedom of expression," DPP spokesperson Wang Min-sheng (王閔生) said in a statement.
People First Party Chairman James Soong (宋楚瑜) said Lin came from a working-class background, starting his working life moving bricks, but managed to develop an illustrious career with his diligence and perseverance.
Soong added that although he and Lin had their differences, he has great admiration for Lin for his love of the nation.
"I would like to express my deepest condolences to Lin's family," Soong said.
Additional reporting by Chen Shan-jung, Lin Liang-sheng and Loa Iok-sin
Comments will be moderated. Keep comments relevant to the article. Remarks containing abusive and obscene language, personal attacks of any kind or promotion will be removed and the user banned. Final decision will be at the discretion of the Taipei Times.