Truku protest arrest of hunters in national park
Members of Hualien's Truku community rallied outside the Hualien County Police Bureau in Hualien City on Nov. 7 to protest last month's arrest of Truku hunters in Taroko National Park and the confiscation of their firearms and haul of game during the Truku Thanksgiving Day feast.
Dowmung Tribal Council Chairman Masaw (鍾德光), who was one of the hunters arrested last month, said the protesters demand that police respect their right to hunt and call on the government to abolish special jurisdiction and police checkpoints in restricted mountain areas, which he called "toxic residue from the Martial Law era."
Chung said that he and three others were arrested in Taroko National Park (太魯閣國家公園) on Oct. 15 when returning from a legal hunt conducted on behalf of the Sioulin Township (秀林) Truku community in Hualien's Tongmen Village (銅門) as part of ritual celebrations for their Thanksgiving Day festival.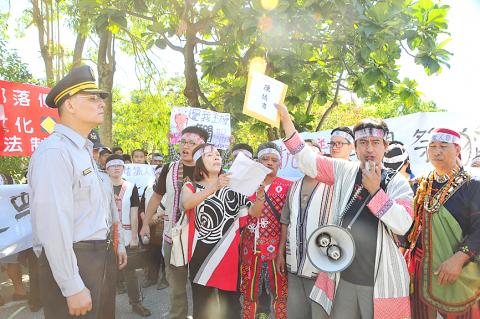 Members of the Truku community rally outside the Hualien County Police Bureau in Hualien City on Nov. 7 to present a petition over the arrest of Truku hunters in Taroko National Park.
Photo: Hua Meng-ching, Taipei Times
Although the hunting party had obtained a valid 12-day license on Oct. 3, the hunters were arrested and their weapons and game were confiscated by police on the grounds that two animals they hunted and killed, a Reeves' muntjac and a Formosan sambar, were on the endangered species list, Chung said.
Five of their firearms, including a "keepsake from a [hunter's] deceased grandfather," were confiscated, as well as the meat from their kills — 14 flying squirrels and the two endangered animals — leaving what the Truku community considered as gifts to their ancestral spirits to "rot in the sun," he said.
"Why is hunting [protected] monkeys permitted, but hunting muntjacs and sambar forbidden?" Chung asked, adding that "the government does not see Aborigines as human beings," a possible reference to a now infamous statement made in 2007 by then-presidential candidate Ma Ying-jeou (馬英九) to a gathering of Aboriginal peoples: "I see you as human beings… [Therefore] you have to play by our rules."
A dozen police officers armed with batons prevented the protesters from entering the Hualien County Police Bureau compound to deliver a petition.
"Do they think we are rioters?" an unnamed demonstrator asked.
"If Ma can visit [Chinese President] Xi [Jinping, 習近平] in Singapore, why is it so hard for Aboriginal citizens to visit a police commissioner?" another unnamed protester asked.
After Deputy Commissioner Yang Kuo-Hsiang (楊國祥) met with the protesters outside and accepted their petition, they voluntarily returned home.
"The police continue to arrest indigenous hunters for alleged violations of the Wildlife Conservation Act (野生動物保育法)," said Chen Tsai-yi (陳采邑), an attorney with the Legal Aid Foundation's Working Group on Indigenous Peoples' Legal Affairs.
"However, articles in both the Wildlife Conservation Act and the Indigenous Peoples Basic Act (原住民族基本法) explicitly allow 'the hunting and killing of wildlife' for the 'traditional, cultural or ritual' needs of indigenous peoples," she said.
"There is nothing wrong with hunting by Aboriginal communities if they follow their traditions, and the endangered species list needs to be updated more regularly," said Wu Hsing-ju (吳幸如), a life science doctoral candidate at National Taiwan Normal University and a researcher of wild boars in Taiwan.
"Relevant laws have long since been amended, but law enforcement officers on the front lines often neglect the needs of Aboriginal communities and exceed their authority. It is not good that unnecessary conflicts have been created," Council of Indigenous Peoples Deputy Minister Tunkan Tunsikian said.
Hualien County Bureau of Agriculture Director-General Lo Wen-lung (羅文龍) said the bureau conditionally allows the killing of Formosan rock macaques "in self-defense" when the animals eat produce from farms or orchards, which is not the same as giving legal permission to hunt them.
When asked for comment, Hualien County Forestry Bureau section chief Kuan Li-hao (管立豪) said that while laws and regulations do permit Aboriginal peoples to hunt, approval for the species and numbers they are allowed to kill still "depends on circumstances," and Aboriginal hunters should keep to "the restrictions stipulated by their hunting permits."
Comments will be moderated. Keep comments relevant to the article. Remarks containing abusive and obscene language, personal attacks of any kind or promotion will be removed and the user banned. Final decision will be at the discretion of the Taipei Times.