FEATURE: Su Chiao-hui hopes to expand dad's legacy
SU TSENG-CHANG: The Democratic Progressive Party legislative candidate said her father's reputation has been 'a source of both pressure and motivation'
Su Chiao-hui (蘇巧慧), Democratic Progressive Party (DPP) legislative candidate for New Taipei City's fifth electoral constituency and the daughter of former DPP chairman Su Tseng-chang (蘇貞昌), says her goal is to expand the democratic legacy of her father's generation.
New Taipei City's fifth electoral constituency is comprised of Shulin (樹林), Yingge (鶯歌) and Sinjhuang (新莊) districts.
When asked about how she evaluates the effect of her father's reputation on her campaign, Su Chiao-hui said it had been "a source of both pressure and motivation."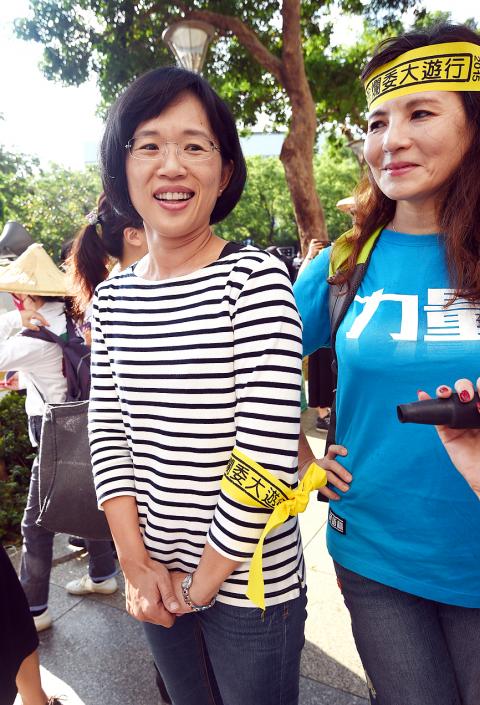 Su Chiao-hui, left, daughter of former Democratic Progressive Party chairman Su Tseng-chang, attends an event in Taipei on Oct. 3. Su Chiao-hui is standing as legislative candidate for New Taipei City's fifth electoral constituency.
Photo: Lo Pei-der, Taipei Times
"The standards and expectations to which I am compared are higher," she said.
"I watched the previous generation open democracy's gates and our generation exercises the right to free speech as naturally as we breathe air. Without them, there is no us," she said. "I don't see myself as replacing anyone. It is more accurate to say that I am taking on the general responsibility that has been entrusted to us."
Acknowledging that her opponents have made her father a campaign issue, Su Chiao-hui said that while she is aware they have derided her "a second-generation politician" (政二代), she initially did not expect to become a politician, nor was she raised to become one.
Instead, the part of her father's career she wanted to emulate originally was being a lawyer, she said, but it was an aspiration she had fulfilled prior to becoming a candidate.
Su Chiao-hui has several law degrees and is a doctorate candidate in law school, practiced as a trial lawyer in several noted firms and volunteered in the past to provide legal counsel to underprivileged citizens in impoverished areas of the nation.
When she was a volunteer legal worker, she often chaired meetings at township offices with those seeking legal aid.
"I prefer helping people in person, not by sitting in an office," she added.
She said she was drawn to politics after a decade serviing as the executive director of her father's Eball Foundation, an organization dedicated to educational reform.
Though the foundation advised "about 3,000 schools" in reforming their educational program to be more adapted to their pupils' talents and career needs, Su Chiao-hui said that a private organization was ultimately "not enough" to address the nation's social and educational challenges.
"A saying of my father is that the master switch to societal problems is institutional reform," she said. "No matter the result of the election, I will not regret that I did not try to make a difference."
Su Chiao-hui's family has a long history of political involvement. Her father was a lawyer by trade before becoming involved in the democracy movement following the Kaohsiung Incident on Dec. 10, 1979, when the then-Chinese Nationalist Party (KMT) government cracked down and imprisoned participants in an anti-government protest organized by Formosa Magazine.
Her father refused to stand idly by as the government persecuted his friends for their advocacy for human rights and democracy, Su Chiao-hui said, adding that her father therefore volunteered to act as their legal representative in their treason trials.
Her father turned to politics when he learned that imprisoned dissident Lin I-hsiung's (林義雄) mother and his seven-year-old twin daughters were murdered at home in 1980, in spite of the constant police surveillance of the house, a case that remains unsolved.
"Shaken, my father called from court to ask: 'Is everyone at home alright?'" Su Chiao-hui recalled. "Anyone who experienced real fear does not forget it easily. A silver spoon was definitely not an item I was born with."
She said her father came to believe that there could be no social justice without political and institutional reforms, adding that the massacre of the Lin family led to her father becoming directly involved in politics.
"My family living room was always packed full of people asking for help," Su Chiao-hui said, adding that she began to travel with her father to campaign rallies, and helped to distribute leaflets and literature.
Being a political candidate for the first time has entailed much adjustment while learning the ropes, though her enthusiasm has enabled her to power through the busy campaign, she said, reiterating that this is because she was not "raised to be a politician."
Su Chiao-hui said her campaign is to focus on advancing the development of fifth constituency's economic infrastructure, improving adaptive education, vocational training and career counseling at the nation's schools, and promoting ethnic and cultural diversity.
"The [voters] have showed so much enthusiasm because they have a powerful will to bring about change, but the government is moving too slowly," she said.
She said that the revitalization of Yingge's (鶯歌) economy is also on her agenda, especially its ceramic industry and the tourism industry.
She said that the government's project to operate a Ceramic Industry Park in Yingge needs to improve the way in which it interacts with local businesses and allocates resources, and that Yingge Old Street needs to find a way to bring back the crowds.
As a mother of two, Su Chiao-hui said that she is well aware of the anxiety caused by the implementation of the 12 year compulsory education system. She believes that elementary education should emphasize adaptive development and that vocational training and industry cooperation should begin at junior-high school level.
Diversity is an issue that concerns her deeply, Su Chiao-hui said, as she is married to an Amis man and her ethnically diverse family has led her to recognize that government policies are often unfriendly to non-Han Chinese Taiwanese.
Saying that people had called her a "good person" for marrying an Aborigine, she said: "We should learn to respect difference. When people stop complimenting me for marrying an Aborigine, I will know that diversity reforms have truly been successful."
Comments will be moderated. Keep comments relevant to the article. Remarks containing abusive and obscene language, personal attacks of any kind or promotion will be removed and the user banned. Final decision will be at the discretion of the Taipei Times.