Taiwan and US break up global escort service ring
FALLEN ROYALTY? The ring had allegedly included 'the Sunflower Queen' and sent models on trips abroad with businessmen who paid between NT$500,000 and NT$2m
Taiwanese law enforcement agencies working in concert with their US counterparts have busted an international prostitution ring, which allegedly had a female proprietor surnamed Tai (戴) heading up the operation to supply escorts, and several suspects were taken in for questioning by prosecutors yesterday.
Judicial officials said the prostitution ring allegedly contravened international laws against human trafficking, because an investigation revealed that some of the call girls flew to China, Hong Kong, Macau, Singapore, the US and Australia to provide sexual services or as "business trip companions," mostly for businessmen and other wealthy clientele.
Three women with alleged involvement were summoned for questioning at the Taipei District Prosecutors' Office on Tuesday night, including the female proprietor, Tai Chun-yi (戴君儀), model agency manager Chung Yi-tzu (鍾宜姿) and Johanne Liou (劉喬安), whose good looks led the local media to dub her the "Sunflower Queen" during her participation in the Sunflower movement last year.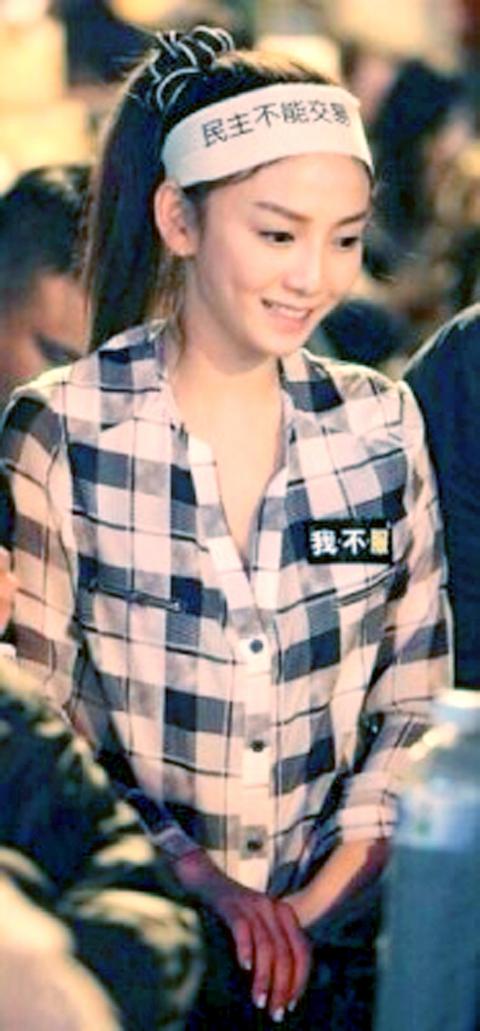 A photograph taken from Johanne Liou's Facebook page shows her on Oct. 20 last year. Liou was released on NT$50,000 bail yesterday after she was summoned for questioning at the Taipei District Prosecutors' Office on Tuesday over allegations of her involvement in an international prostitution ring.
Photo: screen grab from FaceBook
After questioning, the three, who prosecutors suspected of violating the Human Trafficking Prevention Act (人口販運防制法), were released yesterday morning with bail set at NT$500,000 (US$15,297), NT$250,000 and NT$50,000 respectively.
The prosecutors followed up by summoning a number of suspects and witnesses for questioning yesterday afternoon, who included a female model who starred as the lead and spokesperson in an advertising campaign for a computer game, and other models and starlets said to be working in the entertainment industry.
Because some of the women said they were not working of their own free will and had been threatened, the investigation has proceeded based on the suspicion that Tai, Liou and others were engaged in cross-border human trafficking.
Reports said US authorities informed Taiwan of the ring's existence through the American Institute in Taiwan (AIT).
In response to media queries, AIT official Joseph Bookbinder said he would not comment on individual cases, but he did say that Taiwan and the US work together to fight crime.
Officials at the Criminal Investigation Bureau (CIB) said that after a tip-off by US agencies, they monitored Tai's activities and financial transactions for the past six months, before concluding that Tai operated the ring in Taiwan, but with powerful backers and the real masterminds in China.
Officials said Tai provided Taiwanese starlets, models and showgirls as "business trip companions" for wealthy clientele from China, Hong Kong, Macau and Taiwan, and also for overseas Chinese living in US, Australia and other countries.
It is reported the sex workers sometimes spent between three days and a week abroad, with their clients paying between NT$500,000 and NT$2 million, and would also usually pay for business-class airfare tickets, five-star hotel billets, restaurant dining and other expenses for the escorts during their trips.
CIB officials said Tai would receive a 50 percent commission for each of the transactions, and estimated that she had made more than NT$100 million in the past year.
Additional reporting by CNA
Comments will be moderated. Keep comments relevant to the article. Remarks containing abusive and obscene language, personal attacks of any kind or promotion will be removed and the user banned. Final decision will be at the discretion of the Taipei Times.