Boeing task force probes Apache choppers' corrosion
The Ministry of National Defense yesterday said that corrosion woes with AH-64E Apache helicopters have led to the aircraft's grounding, and Boeing, the US manufacturer, has dispatched a special task force to help identity and fix the problem.
Preliminary assessment found serious oxidation on metal components in the tail rotor gearbox, which led to nine of the Apaches being taken out of operations, said Major General Huang Kuo-ming (黃國明), commander of the Army Aviation Special Forces Command.
Twelve of the helicopters were reportedly also grounded due to parts shortages, leaving only eight of the fleet operational.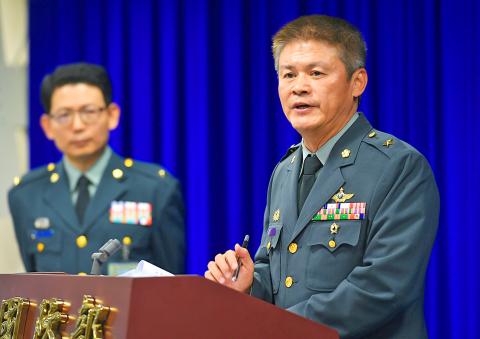 Major General Huang Kuo-ming, right, commander of the Army Aviation Special Forces Command, yesterday answers questions at the Ministry of National Defense in Taipei about corrosion problems with the newly acquired Boeing AH-64E Apache helicopters.
Photo: Chang Chia-ming, Taipei Times
"We noticed rust corrosion developing in the tail rotor gearbox in March, and notified the US side of the problem at that time. They were quite concerned, and have advised our side to apply several remedial measures to counteract the corrosion," Huang said.
However, despite taking the remedial measures as part of regular maintenance and service work, the corrosion problem is persisting, which is why Boeing sent a special task force last month to perform a thorough check and safety inspection of all 29 helicopters, he said.
The inspection is ongoing and is expected to be completed by the end of next month, Huang said.
Officials said the Boeing task force is trying to determine into cause of the problem, which could be Taiwan's wet and high humidity climate, seasonal monsoon rains blowing salt-laden ocean water inland, or improper maintenance and handling by ground service crew.
The AH-64E gearbox is made of a new aluminum-magnesium alloy, while the earlier AH-64D used an older type of aluminum alloy, and Boeing is also investigating the possibility that the corrosion problems stem from the new alloy, Huang said.
Comments will be moderated. Keep comments relevant to the article. Remarks containing abusive and obscene language, personal attacks of any kind or promotion will be removed and the user banned. Final decision will be at the discretion of the Taipei Times.