Ko defends 'improved' mascot
'REPETITIVE SPENDING': KMT councilors have criticized the Taipei City Government for spending at least NT$5.28 million on promotional tools for the 2017 Universiade
Taipei Mayor Ko Wen-je (柯文哲) yesterday sought to clarify what has been deemed wasteful spending by the Taipei City Government for outsourcing the design of the mascot for the 2017 Summer Universiade.
The city government on Wednesday unveiled the latest designs for the mascot, emblem and slogan for the sports event.
The designs all centered around the image of the Formosan black bear, which is native to Taiwan.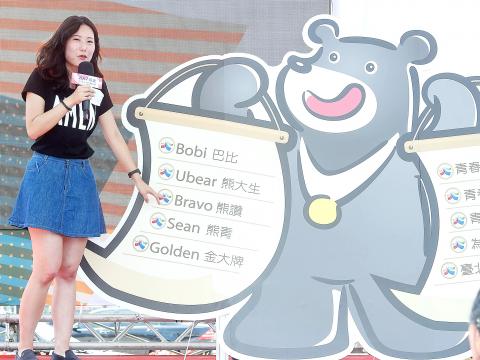 The event host presents the mascots for the 2017 Taipei Summer Universiade at an event organized by the Taipei City Government in Taipei on Wednesday.
Photo: Fang Pin-chao, Taipei Times
Including previous designs, promotional tools for the games have cost the city government at least NT$5.28 million (US$159,613), which raised the ire of Chinese Nationalist Party (KMT) councilors, who panned the city government's "repetitive" spending.
Ko said that the latest version of the event's mascot — a Formosan black bear with a gold medal on its chest — was an "improved" version of previous designs.
Ko said that after former Taipei mayor Hau Lung-bin's (郝龍斌) administration shelved the original design, it contracted the University of Taipei to design the second version for NT$800,000, which Ko said gave his administration just "four pieces of paper."
He said that he was dissatisfied with the results produced by Hau's administration, adding that the designs were "badly drawn."
Ko's administration in February assigned the task of designing the mascot to the Department of Information and Tourism, which outsourced the job to musician Patty Hsu (徐千舜), whose design cost the city government about NT$900,000.
Hsu's design, complete with a logo and a slogan, was later put to polls under the city government's "i-voting" system, and was pitted against other designs featuring pictures of the Taipei tree frog and the Taiwan blue magpie.
Though Taipei residents favored Hsu's design in the polls, it was ultimately scrapped after the city government commissioned Asia University professor of visual design Yu Ming-lung (游明龍) — who is responsible for the latest "improved" version — for the task.
Promotional tools designed by Yu have cost the city NT$2.88 million. The government is expected to spend an additional NT$1.5 million next year on volunteers' uniforms, identification cards and tickets.
Ko said that the budget allotted to the designs of the latest mascot, emblem and slogan was "not as large as people think," as transcribing the mascot's image onto tickets, signs and identification cards all require money.
He added that there would be no additional costs for further promotional tools for the Universiade.
Comments will be moderated. Keep comments relevant to the article. Remarks containing abusive and obscene language, personal attacks of any kind or promotion will be removed and the user banned. Final decision will be at the discretion of the Taipei Times.