'Jadeite Cabbage,' 'Meat-shaped Stone' to feature at Chiayi branch museum
The National Palace Museum's most popular artwork — the Jadeite Cabbage with Insects — is to go on display at the trial opening of the museum's southern branch in Chiayi on Dec. 28.
The Jadeite Cabbage with Insects is to be exhibited at the southern branch from Dec. 28 this year until Oct. 2 next year, museum Director Feng Ming-chu (馮明珠) said on Wednesday during a tour of the almost completed museum in Chiayi.
The jadeite carving, which is 18.7cm long and 9.1cm wide, is a Qing Dynasty (1644-1912) piece that was originally housed in Yonghe Palace in Beijing's Forbidden City.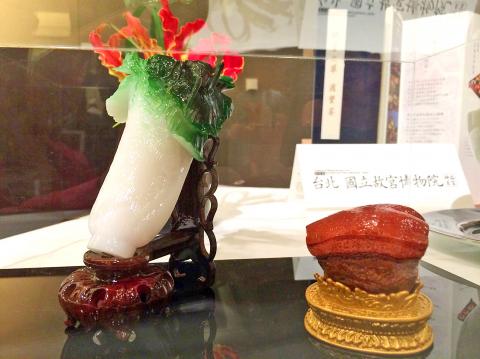 Qing Dynasty carvings Jadeite Cabbage with Insects and Meat-shaped Stone are exhibited in Tokyo on June 24 last year.
Photo: CNA
It is believed to have been a dowry gift for the Guangxu Emperor's Consort Jin to symbolize purity and as a fertility blessing, because a locust and katydid on the cabbage represent children.
Another popular artwork, the Meat-shaped Stone, is also to be displayed at the southern branch, from Oct. 4 next year, Fung said.
The 5.73cm tall Qing Dynasty (1644-1912) piece is made from banded jasper in the shape of braised pork belly.
The jadeite cabbage and meatshaped stone, which are currently housed at the museum's main branch in Taipei, went on display in Japan last year, in the first overseas exhibition of the pieces.
Meanwhile, to celebrate the trial opening of the southern branch, admission for all visitors from Dec. 29 to March 31 next year will be free and this will be extended for visitors from Chiayi, Yunlin and Tainan until June 30 next year, Fung said.
Construction of the southern branch museum is about 95 percent complete, Fung said.
It is to be a "museum of Asian art and culture," she said, adding that she hopes it might "shine on the international stage."
Located in southern Chiayi County, the 70 hectare museum aims to collect, research, preserve and exhibit artifacts and relics from across Asia.
The exterior of the museum bears images of dragons, elephants and horses that are representative of ancient Chinese, Indian and Persian civilizations.
Comments will be moderated. Keep comments relevant to the article. Remarks containing abusive and obscene language, personal attacks of any kind or promotion will be removed and the user banned. Final decision will be at the discretion of the Taipei Times.