Recognition sought for Kaohsiung tree
'HEALTH INSURANCE': Borough Warden Chiu Jui-ming said if the celebrated banyan tree had commemorative status, people would be likely to take better care of it
Residents of Sinsing Borough (新興) in Kaohsiung's Liouguei District (六龜) have petitioned the municipal government to list a 150-year-old Chinese banyan tree in the borough as an item of commemorative value and take measures to better care for it.
At five stories tall, the tree stands in a small community, providing shade from the sun for what locals say has been at least 150 years.
Once a popular transit point for rafters, the borough has not seen such visitors since Typhoon Morakot in 2008. Elderly people in the borough take advantage of the shade and can often be seen sitting under the tree, making tea and chatting.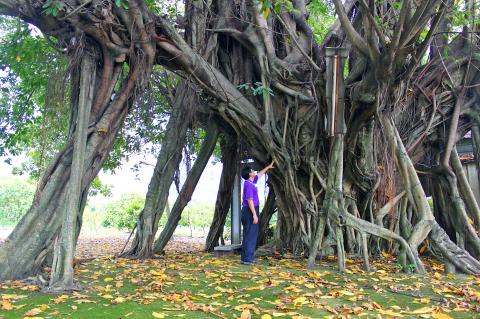 A man stands under a Chinese banyan tree in Kaohsiung's Liouguei District on Friday last week. Residents want to have the tree listed as an item of commemorative value.
Photo: Chen You-cheng, Taipei Times
Borough Warden Chiu Jui-ming (邱瑞明) said the tree, which is in a park called Da Ronggong (大榕公), has been part of his life since he was a child and is a notable landmark for residents.
Chiu said the tree was a popular place for village children to play.
A then-70-year-old two decades ago said that the tree was planted by the elderly person's grandfather, Chiu said, adding that if the claim was true, the tree is nearly 150 years old.
The tree, with a girth that four adults can link hands around, has never been inspected for any illnesses, Chiu said.
The tree has become a gathering spot for locals and holds a special place in everyone's heart, Chiu said, adding that many are worried that the tree might one day become too large and branches could break because it would not be able to sustain their weight.
"We hope that if the municipal government makes it a commemorative tree, it would give it better 'health insurance' and prompt residents and the authorities to better care for it," Chiu said.
"We hope that tree lovers nationwide will visit and admire the tree's magnificence and beauty," Chiu said.
In response to the petition, the city government's Division of Plant Life Protection and Ecology Conservation said that regulations for trees to obtain commemorative value are that they must be at least 60 years old, have branches at least 1.3m above the ground and be at least 1m in diameter.
Division director Lin Chih-hsien (林志嫻) said it is best if the tree has a specific or unique history; a special reason that means it should be commemorated.
Comments will be moderated. Keep comments relevant to the article. Remarks containing abusive and obscene language, personal attacks of any kind or promotion will be removed and the user banned. Final decision will be at the discretion of the Taipei Times.