New laws forcing private zoos out of business: owner
A private zoo in Tainan's Madou District (麻豆) is to close for good in January next year, with the owner complaining that the newly revised Animal Protection Act will make his business too challenging to run.
"It is a painful decision," Madou Crocodile King Zoo owner Chiu Hsi-ho (邱鍚河) said yesterday.
Once the revisions to the Animal Protection Act (動物保護法) take effect on Jan. 23 next year, it will be increasingly difficult for small-scale private zoos to survive, Chiu said.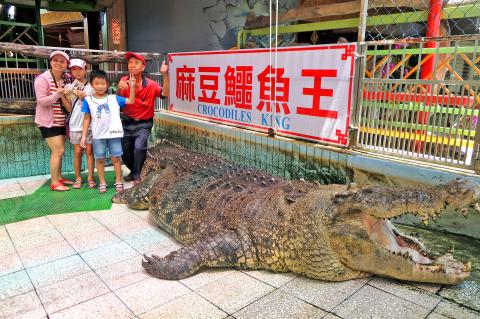 A family poses for pictures with a life-size crocodile model at the Crocodile King Zoo in Tainan's Madou District yesterday. The zoo is set to close in January next year and its crocodile superstar, Xiao He, will leave Taiwan.
Photo: Liu Wan-chun, Taipei Times
Chiu said the laws will become much stricter than when he started his business nearly 40 years ago, making it impossible for him to continue operating.
The death of a male hippopotamus named "A-ho" (阿河) late last year at another private zoo in Taichung triggered a public outcry over the treatment of animals at such zoos, prompting lawmakers to amend the Animal Protection Act.
The revision, passed on Jan. 23, stipulates that an "animal show vendor" must have a license prior to opening for commercial operation.
A-ho, who had been a long-time favorite with tourists that flocked to its home at Taichung's Skyzoo recreational farm, died on Dec. 29 last year, apparently from injuries sustained when it jumped from a moving truck and later fell a second time while suspended in mid-air over a pond at a farm in Miaoli where it was supposed to be treated.
A nearly 40-year-old crocodile, named "Xiao He" (小河), is a star animal at Chiu's zoo.
At a length of 5.8m and a weight of 1,250kg, Xiao He has been "trained" by Chiu to "perform" in the zoo's regular animal shows, Chiu said.
It even allowed visitors to sit on its back for photographs, he said.
Xiao He has drawn many business opportunities for the zoo, Chiu said.
Apart from the crocodile, Chiu's zoo is also known for keeping "unusual" animals, such as a turtle with three heads, a crocodile without a tail and featherless chickens.
However, over the past few years, his shows have been blasted by animal protection groups, who accuse Chiu of abusing his animals.
His zoo has been singled out as one of Taiwan's top 10 worst animal farms, he said, adding that "it made me feel terribly bad," since he has always spared no efforts in attending to the "rare animals" he keeps.
Chiu said he had never violated the existing act and that he has taken many measures to improve his zoo.
However, the regulations are becoming increasingly strict, thanks to increasing awareness of animal welfare.
"It is almost impossible for a small zookeeper to follow them," Chiu said.
Comments will be moderated. Keep comments relevant to the article. Remarks containing abusive and obscene language, personal attacks of any kind or promotion will be removed and the user banned. Final decision will be at the discretion of the Taipei Times.