Miaoli's financial problems a warning to nation: Tsai
DEBT TRAP: The DPP chairperson promised to pull the nation out of debt if it returns to power through strict budget reviews and by seeking foreign investments
The financial problems that the Miaoli County Government is facing is a warning to the entire nation, Democratic Progressive Party Chairperson Tsai Ing-wen (蔡英文) said yesterday, vowing to lead the nation out of a debt trap if she is elected president.
Greeted by hundreds of supporters and accompanied by DPP county councilors, Tsai attended several rallies around the county to stump for the party's legislative candidates, criticizing the Chinese Nationalist Party (KMT) government, while promising that her party would do a better job.
"Miaoli County owes a record-high debt of more than NT$60 billion [US$1.9 billion], but the debt did not bring anything positive to the county, but only overinvestment and overdevelopment," Tsai told the crowd. "The county government spent a lot of money on fireworks and concerts for the world's top tenors; it failed to use taxpayers' money effectively."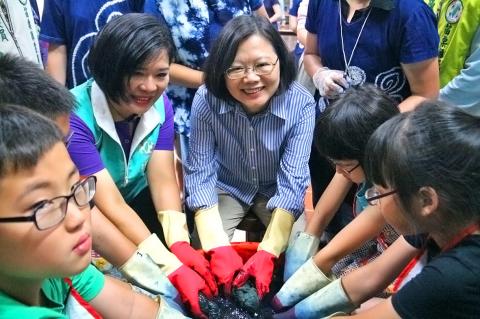 Democratic Progressive Party (DPP) Chairperson Tsai Ing-wen, center, and DPP Legislator Wu Yi-chen, second left, yesterday try out traditional Hakka indigo dye techniques with local children at a summer camp in Miaoli County.
Photo: CNA
The severity of the county's debts is such that it could not even pay its employees, she said.
Tsai attributed the problem to the county government's failure to manage its finances and the central government's failure to properly audit it.
She added that the DPP would fix the problem not only for Miaoli, but also for the entire nation once elected to power.
Asked how she plans to solve the problem, Tsai said that she would review budget spending, and ask governments at both central and local levels to follow regulations strictly, while seeking to attract investments from the private sector.
"As the nation is now seriously indebted, what we need the most now are effective investments," Tsai said. "Public living standards can only improve with private investments to revitalize the economy. The government needs to create a good environment for businesses as well as job opportunities for collaboration between the government and the private sector."
Tsai also touched on cross-strait issues, condemning the Chinese People's Liberation Army's recent simulation of an attack on the Presidential Office.
"Peace and stability across the Taiwan Strait is not Taiwan's unilateral responsibility; rather, all players — including China — should share that responsibility," Tsai said. "Such a simulation is very unfriendly, and is upsetting to Taiwanese people. It is something a responsible nation should not do."
Tsai said that the incident also reminds Taiwanese of the importance of national defense, vowing that the DPP would work to strengthen national defense once in power.
Comments will be moderated. Keep comments relevant to the article. Remarks containing abusive and obscene language, personal attacks of any kind or promotion will be removed and the user banned. Final decision will be at the discretion of the Taipei Times.