Water Park Inferno: Progress of severe burns patient hailed by health workers
In what physicians are describing as a "miracle," a 20-year-old college student with burns to 90 percent of his body has regained consciousness and was breathing unassisted after being injured in the explosion and fire at the Formosa Fun Coast (八仙海岸) water park in New Taipei City on Saturday.
Lu Yi-ming (呂意銘), a sophomore at Vanung University in Taoyuan, was taken off a ventilator at China Medical University Hospital in Taichung on Tuesday evening, plastic surgeon Lee Tsung-hsun (李宗勳) said yesterday.
"It is a medical miracle," Lee said.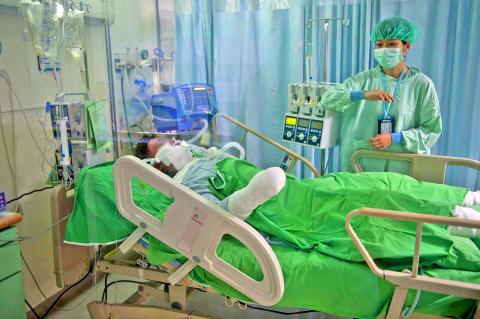 University student Lu Yi-ming, who was injured in the Formosa Fun Coast incident, waves from his bed at China Medical University Hospital in Taichung yesterday.
Photo provided by a member of Lu's family
It is uncommon for a patient with such extensive burns to regain consciousness within three days of being injured, he said.
When Lu arrived at the hospital, his entire body was burned, except the area covered by his swimming trunks.
The injuries caused compartment syndrome — increased fluid pressure in parts of the body, which lowers blood pressure to dangerous levels — and Lu also developed severe inhalation burns, the physician said.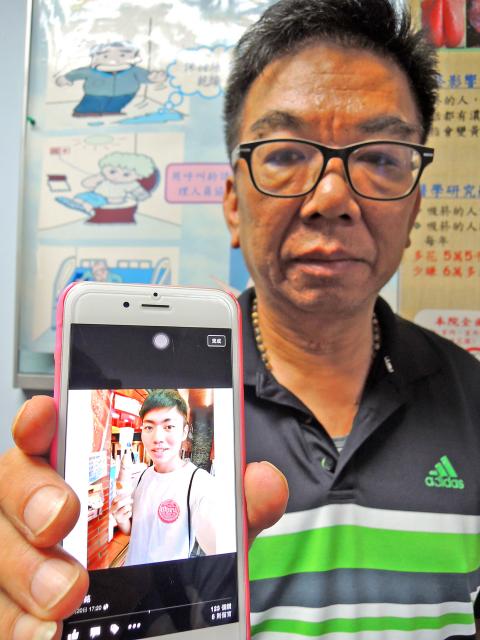 The father of Lu Yi-ming, who was injured in the Formosa Fun Coast incident, shows a photograph of his son during a news conference in Taichung on Tuesday.
Photo: Tsai Shu-yuan, Taipei Times
Lu's progress over the past three days encouraged the medical team responsible for him, Lee said.
He added that the young man can now wave his hand in response to questions.
Lu's breathing is smooth and his blood pressure is stable. He can perform some fundamental exercises and his lungs have a promising prognosis, Lee added.
Six of the nearly 500 people injured in a suspected dust explosion at Formosa Fun Coast are being treated at the hospital.
Among them, two are breathing independently, Lee said.
The incident apparently occurred when colored cornstarch exploded at a "Color Play Asia" party held in a drained pool at the water park in Bali District (八里).
As of yesterday, 437 people were still being treated nationwide, 287 in intensive care, according to New Taipei City Government statistics.
The incident claimed its first fatality, a 20-year-old woman, on Monday.
Comments will be moderated. Keep comments relevant to the article. Remarks containing abusive and obscene language, personal attacks of any kind or promotion will be removed and the user banned. Final decision will be at the discretion of the Taipei Times.