Site names Beitou Library among 'coolest' buildings
TOP TEN: Travel Web site When On Earth said that the Taipei building's roof was notable for its design, being able to collect rainwater for use in the facility's toilets
The Beitou (北投) branch of the Taipei City Library was selected among the "coolest" examples of "green buildings" by travel Web site "When On Earth," which said the building was designed to curb consumption of water and electricity.
The Web site recommends places worth visiting or things to do in different countries.
The library was chosen as a good example of a green building, as it "uses large windows to help save on electricity consumption," the Web site said, adding that the windows are opened wide to reduce the use of fans and air conditioning.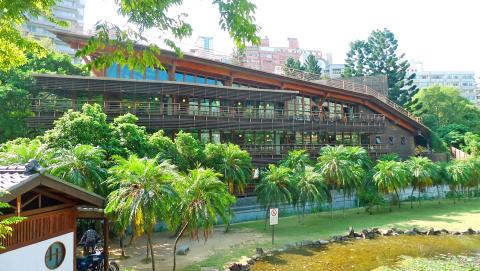 Trees line a yard outside the Beitou branch of the Taipei City Library yesterday.
Photo: Liang Pei-chi, Taipei Times
The Web site also lauded the design of the roof, which is partially covered with photovoltaic cells to convert sunlight into electricity.
To provide water, the roof can capture rainfall, which can be stored to be used for flushing toilets, the site added.
The Web site said that the library was the first building in Taiwan to qualify for a diamond rating, the highest rank of the nation's ecology, energy saving, waste reduction and health (EEWH) certification system.
Aside from being an example of a green building, the library was chosen by pop culture Web site Flavorwire.com as one of the 25 most-beautiful public libraries in the world in 2013.
Nine other "green" buildings made When On Earth's list: the Crystal building in London; the Pixel building in Melbourne, Australia; the Change Initiative building in Dubai; the Bullitt Center in Seattle; the ACROS Fukuoka Foundation Building in Fukuoka, Japan; the Phipps' Center for Sustainable Landscapes in Pittsburgh, Pennsylvania; the Wat Pa Maha Chedi Kaew Temple in Sisaket, Thailand; the Bahrain World Trade Center in Manama; and Khoo Teck Puat Hospital in Singapore.
The Crystal building was No.1 on the list, while the Beitou Library was 10th.
An urban landmark built by German company Siemens, the Crystal building is "one of the greenest buildings ever built by mankind" with its "striking" structural design, When On Earth said.
Apart from using natural light during the day, the building is equipped with smart-lighting technology that is primarily powered by solar energy. It combines LED and fluorescent lights that can be switched on and off depending on available sunlight, it said.
Like Beitou Library, the building's roof collects rainwater, the Web site said, adding that the building's recycled water is purified for drinking.
Comments will be moderated. Keep comments relevant to the article. Remarks containing abusive and obscene language, personal attacks of any kind or promotion will be removed and the user banned. Final decision will be at the discretion of the Taipei Times.