Student cleared on some charges after flinging book at Ma
The Taipei District Court yesterday acquitted Flanc Radical spokesperson Yen Ming-wei (顏銘緯) of charges filed after he threw a book at President Ma Ying-jeou (馬英九) in September last year.
Yen, a student at National Sun Yat-sen University, made headlines when he hurled a copy of George Kerr's Formosa Betrayed at Ma in protest over the president's cross-strait policies.
Police later charged Yen with obstructing public duties and causing physical harm, citing violations of the Social Order Maintenance Act (社會秩序維護法).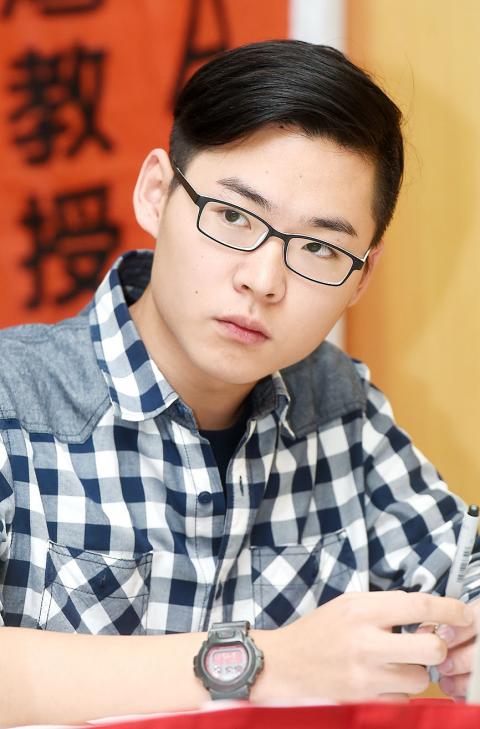 Flanc Radical spokesperson Yen Ming-wei is pictured on March 1 in Taipei.
Photo: Chien Jung-fong, Taipei Times
The court cleared Yen of all charges, saying that Yen did not obstruct any public duties as Ma was attending a private event when the incident occurred. It ruled that Yen's behavior did not constitute a violent attack, since the book he threw failed to find its mark.
However, Yen is still in the midst of another legal battle with a man surnamed Lee (李), who claims he was hit in the stomach by the book after it missed Ma.
Yen said that Lee's ongoing lawsuit against him, over charges of causing bodily harm, clearly reflected the will of the Ma administration, with Lee merely serving as Ma's "puppet."
"Ma's seven years in office have led to regression in many areas; from the backsliding of democracy to the collapse in peoples' livelihoods, and have led to a new wave of social movements," he said.
"Damage to Taiwan's 'social order' or economic development was caused by Ma Ying-jeou himself," Yen said.
He said that it was unimportant whether Ma was carrying out officials duties or not during the incident, as he intended to express his dissent based on Ma's position as president.
"If I were to be declared guilty of causing harm, then the harm Ma Ying-jeou inflicted to Taiwan over the past seven years would warrant him a lifetime in prison," Yen said. "My act of dissent pales in comparison with the harm that he caused."
Comments will be moderated. Keep comments relevant to the article. Remarks containing abusive and obscene language, personal attacks of any kind or promotion will be removed and the user banned. Final decision will be at the discretion of the Taipei Times.