Maternal macaque makes big splash for Mother's Day
Clips of a Formosan rock macaque caring for six stray kittens and its maternal actions — especially around Mother's Day — have drawn significant attention from Taiwanese netizens.
In the clip (https://youtu.be/vrV4gMFu8TM), a monkey dubbed Positi (破四弟) by "father of Formosan macaques" Lin Chin-fu (林金福) — who is known for his years of working to conserve the species — was seen cradling and grooming the kittens.
Positi fought other macaques for food for the kittens and was seen teasing the kittens to sleep like it would a baby monkey.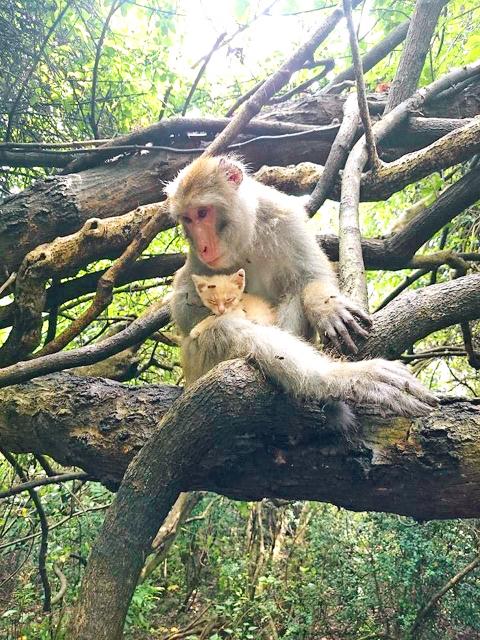 A undated still image taken from a video shows a Formosan rock macaque named Positi by local residents taking care of a stray kitten in Kaohsiung's Shoushan National Natural Park.
Photo courtesy of Lin Mei-mei
Formosan rock macaques watch group spokesperson Lin Mei-mei (林美美) said the monkey's actions are probably related to monkeys' birthing season, which is under way.
Baby kittens are afraid of the cold and thus have low survival rates in the wild, she said.
With female monkeys starting to take care of their young, Positi is probably imitating their actions, Lin said.
Four of the kittens are now being kept at Lin's house; one died and another was adopted.
The Shoushan National Park census estimates that there are between 1,100 and 1,400 Formosan rock macaques in the park.
Sipu Junior High School General Affairs Division director Lin Chin-fu (林金福) said the macaques would not have killed the kittens, adding that the kittens were sent to veterinarians for checkups and received clean bills of health.
National park official Hsu Shu-kuo (許書國) said that unless the cats disturbed the monkeys they would remain safe.
Hsu urged local residents not to abandon their pets.
If such abandonment continues, then the population of cats might well become a threat to the macaques natural habitats, Hsu added.
Comments will be moderated. Keep comments relevant to the article. Remarks containing abusive and obscene language, personal attacks of any kind or promotion will be removed and the user banned. Final decision will be at the discretion of the Taipei Times.