Tree doctor brings 'Takeshi Kaneshiro tree' back to life
TREE OF LIFE: The famous tree has improved since being felled in a typhoon, but is set to take another four to five years to fully recover, the arborist said
The iconic "Takeshi Kaneshiro tree" — named after Taiwanese-Japanese actor Takeshi Kaneshiro (Jin Cheng-wu, 金城武) and arguably the most famous tree in eastern Taiwan — has made a remarkable recovery at the hands of a Japanese tree doctor after it was uprooted by Typhoon Matmo last year.
Arborist Tokuo Yamashita, who is among the most eminent tree doctors in Japan, on Friday said that the tree is no longer in a critical condition, but still requires intensive care, including bracing, bandaging, weekly watering and soil reconditioning to allow the roots to grow deeper underground.
It would take at least another four to five years for the tree to fully recover, he said.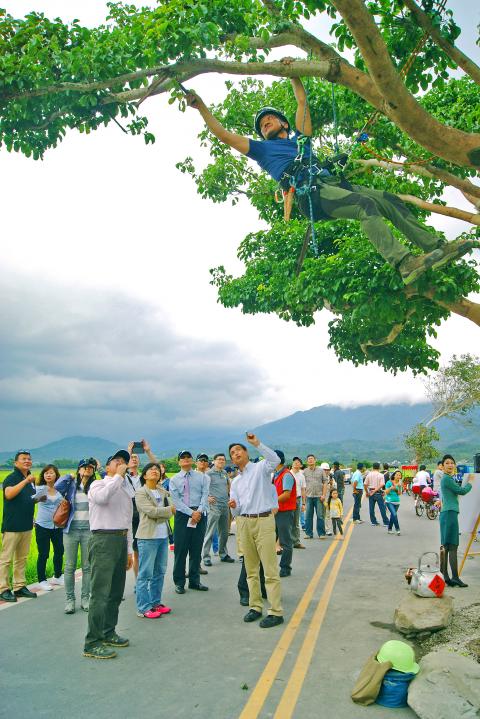 Japanese arborist Tokuo Yamashita on Friday saws off a dead branch from the "Takeshi Kaneshiro tree" in Taitung County's Chihshang Township that gained fame after it was used as the backdrop in a commercial with Taiwanese-Japanese actor Takeshi Kaneshiro.
Photo: Wang Hsiu-ting, Taipei Times
The red cedar has become a popular tourist attraction in Taitung County's Chihshang Township (池上) after being featured in an EVA Airways commercial starring Kaneshiro riding a bicycle along the rural road and stopping in the shade of the tree to drink a cup of tea.
After the tree was felled by the typhoon, the airline asked Yamashita to treat it.
He has made three house calls to save the tree since last year, with the latest visit on Thursday, saying he was initially not optimistic about the tree's recovery when he saw it uprooted and lying on the ground last year.
However, the tree is showing good vital signs and is growing a much larger volume of leaves without withered branches, while damage to the trunk has been contained, he said, although he added that the tree's roots — which normally grow more than 60cm underground — could not reach deeper than 10cm in depth.
This is possibly because of shallow watering and hardened soil due to tourists walking around the tree, he said.
Friends of Daan Forest Park Foundation vice director Kaven Chen (陳鴻楷) said a tree hole cover would be installed to prevent the roots from being weighed down by tourists and farm vehicles, without depriving tourists of the opportunity to get closer to the tree.
Comments will be moderated. Keep comments relevant to the article. Remarks containing abusive and obscene language, personal attacks of any kind or promotion will be removed and the user banned. Final decision will be at the discretion of the Taipei Times.