Chiang Wan-an rises in KMT race
Billed as an injection of new blood into the Chinese Nationalist Party (KMT), Chiang Wan-an (蔣萬安) is to advance to the next round of the party's primary for next year's legislative elections, as poll results published on Sunday showed that his rival, KMT Legislator Lo Shu-lei (羅淑蕾), had failed to secure a lead of more than 5 percent.
Chiang, 37, is the son of former KMT vice chairman John Chiang (蔣孝嚴) and a fourth-generation descendant of Chiang Kai-shek (蔣介石).
The KMT's primary election guidelines stipulate that nominations for legislative elections are given only when a hopeful has established a lead greater than 5 percent over his or her closest rival in opinion polls.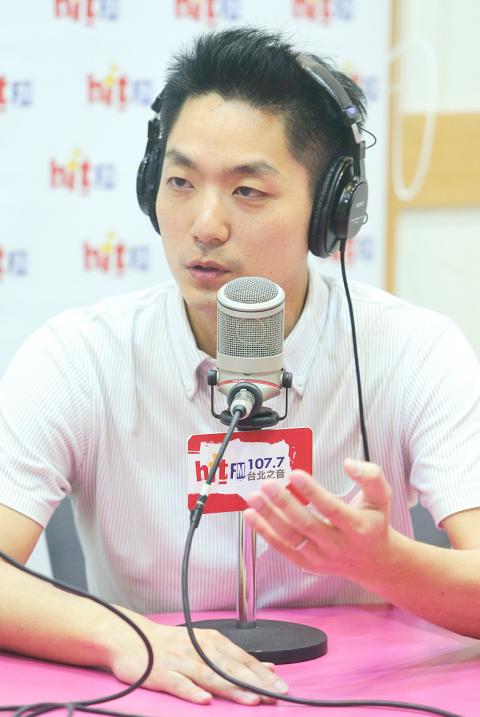 Chiang Wan-an, son of former Chinese Nationalist Party (KMT) vice chairman John Chiang, gestures during a radio interview on HitFM in Taipei yesterday.
Photo: CNA
In the absence of a clear victor, aspirants vying for the same electoral district nomination can either choose to conduct negotiations among themselves or enter a primary election.
Chiang Wan-an said that he has been successful in making himself known to the public since announcing his bid on March 29 to run for the legislative seat for Taipei's third constituency covering the districts of Zhongshan (中山) and Songshan (松山).
"At first, nobody knew who I was, with some even saying they thought that I was a woman," he said, adding that his efforts to interact with prospective voters while they wait for garbage trucks have paid off.
He said that in the early stages of the election, where poll results are paramount, his campaign strategy is to devote the majority of his limited resources to making his name known to the public.
As the campaign advances toward the primary vote, he said that the upcoming battle is to be decided on new technological frontiers, such as the Internet and via micro-donations.
He said that he holds his rivals, Lo and KMT Taipei City Councilor Wang Hung-wei (王鴻薇), in high regard, but emphasized that his greatest asset is his youth, which represents a sorely needed injection of new blood into the beleaguered ruling party — a sentiment that appears to be shared by the public.
Chiang Wan-an's bid has been described as a quest to avenge his father's defeat by Lo in a 2011 KMT legislative primary, a claim that he has dismissed.
Chiang said that the legislative bid is his own battle, and that his father has not taken part in the campaign — beyond from voicing support for his decision. However, Chiang Wan-an said that his father has been helping to take care of his children while he focuses on the campaign.
"My youth and my background as a lawyer are my greatest assets, as I represent a new option for the voters," he said.
A surprised Lo said that the KMT's electoral guidelines on a "scant" three-day opinion poll is defective, adding that she has been tireless in serving her district's disadvantaged groups throughout her career as a lawmaker.
She added that she has obtained "some evidence" that might expose "major flaws" in the polling process, and she has informed the party leadership of her findings.
Comments will be moderated. Keep comments relevant to the article. Remarks containing abusive and obscene language, personal attacks of any kind or promotion will be removed and the user banned. Final decision will be at the discretion of the Taipei Times.