FEATURE: 'Web comics era' is on display at Taipei show
INDEPENDENCE ONLINE: Direct interaction with readers and increased artistic freedom in Web-based comics are drawing neophytes and veterans alike, insiders said
The third Taipei International Comics and Animation Festival, which opens today, is to feature for the first time booths by Web comic artists, marking the coming of the "Web comics era," the nation's comic industry said.
Coming along with increased smartphone use is the advent of a new generation of Internet-based comics that accommodate mobile readership with scrollable vertical layouts similar to typical Web sites, people in the comic industry said, adding that there are more Web comics portals allowing almost anyone to publish their own efforts across digital devices.
In contrast to the accessibility and flexibility of Web comics, publishing a traditional print comic is difficult, typically demanding that artists establish their reputations by winning awards before a publisher offers them a publication deal.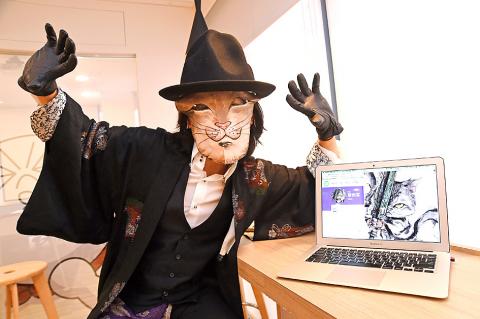 Comic book artist Yeh Yu-tung poses next to a computer showing one of his creations in Taipei on Friday.
Photo: Liu Hsin-de, Taipei Times
If an artist pulls through those challenges, further tasks await, industry insiders said.
The artist must submit drafts within a limited time amid seemingly "endless" negotiations with editors regarding plot developments, in addition to deftly executing the images and eloquently telling the story.
In contrast to the difficulties and limitations artists have in print publications, Web comics are more accessible and diversified in terms of format, content, artistic freedom and reader engagement, insiders said.
Works as simple as daily strips and four-panel strips could become an Internet sensation if their originality appeals to readers.
Web comic portals like Line messenger's Webtoon allow artists greater freedom to create their own works and to have a more intimate interaction with readers.
Special visual and audio effects can be inserted to change readers' experience. For example, interactive horror Web comic Red (紅), published by the Comico Web comics portal, uses special effects to intensify the reading experience.
As print comic industries across the globe are in decline, annual comic book sales in Taiwan have dropped to a bit more than NT$1 billion (US$31.7 million) last year from NT$2 billion in prior years, Chinese Animation and Comic Publisher Association secretary-general Roger Kao (高世椿) said.
In contrast, Web comics, which serve as a new stage for comics artists, are expected to prosper financially, even though no accurate figures could be calculated at this point, he added.
The depreciating print comic industry has taken a toll on artists, insiders said. Creators like Chung Yun-de (鍾運德) and Yeh Yu-tung (葉羽桐), both winners of the Ministry of Culture's Golden Comic Award, yield only limited achievements, prompting them to turn to Web comics.
Chung was offered a book deal after he won the 2013 Golden Comic Award with his Young Jimmy Lai (少年黎智英), a creation based on the story of Next Media Group chairman Jimmy Lai (黎智英).
However, his story is not one of success, he said.
He earned NT$400 to NT$600 for every sheet of a draft edition and was required to hand in 32 sheets every month.
That translated into a meager monthly income of a bit more than NT$20,000, the author said.
Artistic freedom was also limited, as the project editor had control over the storyline — as is usual in the industry — he added.
He turned to Line's Webtoon when the South Korea-based service was introduced in Taiwan last year and the online publisher agreed to publish installments of a project inspired by the early years of general Zhou Yu (周瑜) in the late Eastern Han Dynasty, Anecdotes of Three Kingdoms (三國.大江東趣), he said.
With no editor to horn in on his works, Chung was able to create a popular series that earned him the prestige to participate in a large Web comics event in South Korea last year.
"A good publisher makes you a fortune and a bad publisher brings you misfortune," he said.
Yeh, a Golden Comic Award winner and skillful wash painting artist, said that Web comic artists are not limited to the dense panel composition commonly seen in print comics, as Web comics are not paginated and are vertically structured in a scrollable layout.
More animated and interactive representations could be infused into the works, allowing artists to present effects similar to those of cinematic storyboards, he said.
His plan to publish Feline Swordsman (貓劍客), an original work, failed last year, because his editor was dissatisfied with the plot despite his multiple revisions, he said.
However, he reworked the comic by rewriting the plot and interacting directly with online readers, he said.
The project won first prize in the full-length comics category in a competition that Line Webtoon organized last year, he added.
Comments will be moderated. Keep comments relevant to the article. Remarks containing abusive and obscene language, personal attacks of any kind or promotion will be removed and the user banned. Final decision will be at the discretion of the Taipei Times.