2014 ELECTIONS: KMT's John Wu loses Taoyuan re-election bid
Taoyuan County Commissioner John Wu (吳志揚) of the Chinese Nationalist Pary (KMT) lost his re-election bid to Democratic Progressive Party (DPP) challenger Cheng Wen-tsan (鄭文燦), after failing to cross the 50 percent threshold in the nine-in-one elections yesterday.
Cheng is to become the first mayor of Taoyuan, as the county government is scheduled to become one of the nation's six special municipalities on Dec. 25.
Wu and Cheng had their first showdown in 2009, when the two ran for Taoyuan County commissioner. Wu defeated Cheng by winning 52 percent of the votes.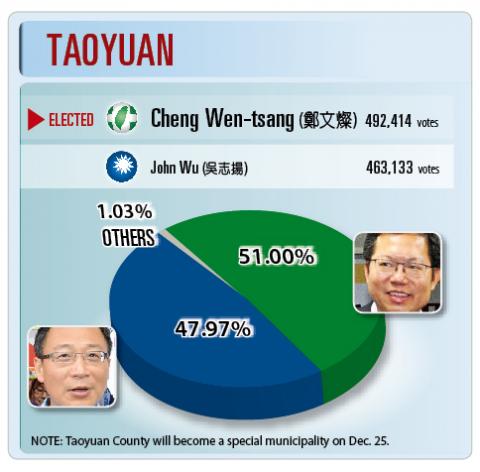 Graphic: TT
This time, Cheng secured 51 percent of the votes, exceeding the number of votes Wu won five years ago.
Wu conceded his defeat soon after learning the results.
"We need to accept the results of democracy," Wu said. "My personal success or failure does not matter. I congratulate Cheng for winning the election. I hope he can continue to lead Taoyuan City as it becomes a special municipality. "
Cheng said in his speech that he aims to transform Taoyuan with a more humble and more upright attitude and thanked DPP Chairperson Tsai Ying-wen (蔡英文) and former DPP chairman Su Tseng-chang (蘇貞昌) for their assistance in his bid.
A Yangmei City (楊梅) resident surnamed Chen (陳) said he was surprised by the result because Wu's performance during his term should not have cost him the election.
"I thought the margin between the two candidates would be small. I did not expect he would lose the election," he said.
A voter in Nankan (南崁), surnamed Ho (何), said she did not strongly support any particular candidate, but she felt that Wu's family has been deeply involved in politics in Taoyuan and would not have made needed changes.
"I think he should be replaced by someone new," she said.
Wu's family has produced three of the county's commissioners, including Wu's grandfather, Wu Hong-ling (吳鴻麟); Wu's father, Wu Po-hsiung (吳伯雄); and Wu himself. Wu Po-hsiung is also an honorary KMT chairman.
Voting records show that 11 of 12 Taoyuan County commissioners were KMT members.
Former DPP chairman Hsu Shin-liang (許信良) was the first non-KMT Taoyuan County commissioner elected and former vice president Annette Lu (呂秀蓮) was the second non-KMT commissioner.
In 2001, the KMT regained power in Taoyuan County, after current New Taipei City Mayor Eric Chu (朱立倫) defeated DPP candidate Perng Shaw-jiin (彭紹瑾) by winning more than 50 percent of the votes in the commissioners' election.
Chu was subsequently re-elected in 2005, beating DPP candidate Cheng Pao-ching (鄭寶清) with more than 60 percent of the popular votes.
Comments will be moderated. Keep comments relevant to the article. Remarks containing abusive and obscene language, personal attacks of any kind or promotion will be removed and the user banned. Final decision will be at the discretion of the Taipei Times.