Ko Wen-je opens campaign office, cheered by crowd
Independent Taipei mayoral candidate Ko Wen-je (柯文哲) yesterday officially inaugurated his campaign headquarters, vowing to become a mayor above party divisions once elected, while accusing his Chinese Nationalist Party (KMT) rival, Sean Lien (連勝文), of dodging answering questions about his personal finances.
Cheered by hundreds of enthusiastic supporters upon his arrival, it took Ko nearly 20 minutes to walk only a few dozen meters through the crowd, as he was constantly stopped by supporters who wished to shake his hand or take photographs of him.
"Victory for Ko! Victory for Ko! Victory for Ko!" The crowd chanted as Ko walked onto the stage.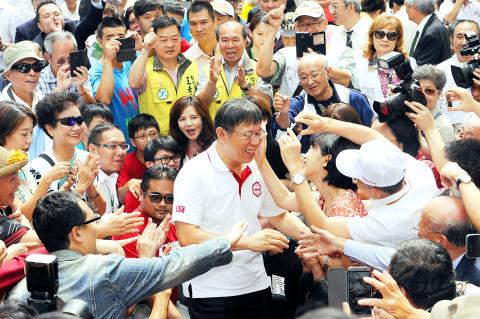 Independent Taipei mayoral candidate Ko Wen-je, center, smiles as his wife, Peggy Chen, dabs sweat from his face at the opening ceremony of his campaign office yesterday.
Photo: Liao Chen-huei, Taipei Times
"This is an election that is beyond blue and green, and all party divisions," Ko told the crowd. "If I am elected, I will be a mayor for all residents of Taipei, as I have no particular party affiliation."
"I will not join any political party when I get elected, and I will ask all officials in my city government to resign from political parties," he said.
He promised that once elected, he would follow an "open government" policy that encourages the participation of citizens in decisionmaking processes.
He said he has decided to run for mayor not in the interests of himself or his family, but rather to pursue social justice.
"I believe that democracy, freedom, the rule of law, human rights, concern for the disadvantaged and sustainable development would go beyond all rivalry," Ko said. "If I am elected, I will bring about positive changes to politics in Taiwan, making the Democratic Progressive Party (DPP) more progressive and the KMT closer to the people."
However, as he spoke about his vision, he also accused Lien of dodging giving answers about his finances.
"I've been open, I've made public all the bank accounts related to me when questioned by my rival," he said. "I'm not like Lien, who has been dodging my request to also make public his personal finances, as I did."
Ko said that he would not only avoid negative campaigning, but would be a fair mayor if elected.
Besides Ko and his campaign team, several city councilor candidates nominated by the DPP, the Taiwan Solidarity Union and the People First Party also attended the inaugural ceremony.
Ko said this shows that he is a politician beyond party lines.
Comments will be moderated. Keep comments relevant to the article. Remarks containing abusive and obscene language, personal attacks of any kind or promotion will be removed and the user banned. Final decision will be at the discretion of the Taipei Times.