Hello Kitty fails to make Maokong Gondola profitable
The Taipei Rapid Transport Corp (TRTC) in December introduced Hello Kitty-themed cable cars to Taipei's Maokong Gondola in a bid to increase the popularity of a line that has bled money for years, but the line will still lose over NT$79 million (US$2.62 million) this year and next year, the company said.
When the cartoon character is removed, the company added, the gondola could lose up to NT$96 million a year.
The gondola has been criticized as a bottomless pit for city funds, losing between NT$80 million and NT$100 million annually since 2010.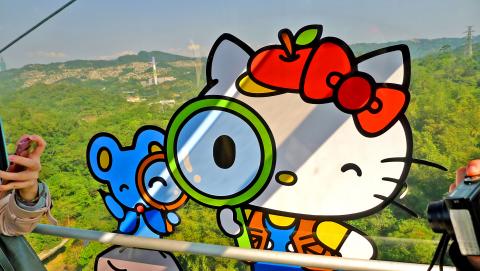 Images of cartoon character Hello Kitty and her friend Joey adorn a window of one of the cars of the loss-making Maokong Gondola in Taipei yesterday.
Photo: Wu Liang-i, Taipei Times
Even when the Taipei City Government capitalized on the popularity of a panda cub born at the Taipei Zoo last year by using a panda theme to promote the gondola, the line still lost NT$80 million to NT$90 million.
Taipei City Councilor Chen Yen-po (陳彥伯) of the New Party castigated the city government for legally designating the gondola as public transportation when it was built, avoiding rigorous environmental review.
This ensures the gondola's cheap ticket price cannot be easily adjusted, he said.
In comparison, tickets for a similar gondola at Sun Moon Lake (日月潭) are more than five times as expensive, even though the line is shorter, Chen said.
"Former mayor Ma Ying-Jeou (馬英九) left behind an absolute mess," Chen said. "As long as Maokong Gondola tickets cost only NT$50, there's no way to make a profit."
In response, TRTC general manager Tan Gwa-guang (譚國光) said the Hello Kitty cars do boost the ridership of the gondola and that it has spurred the TRTC to extend its one-year contract with the Taiwan representative of the Japanese cartoon character producer Sanrio until June next year.
Past research by the city government's transportation department has found that the gondola tickets' ideal price point would be NT$70, an increase of NT$20.
However, this increase would only raise NT$20 million in new revenue, far short of the annual losses, the research found.
The research also suggested that if the ticket price increases, the gondola's passenger load would drop, limiting the amount of new funds which could be raised.
Comments will be moderated. Keep comments relevant to the article. Remarks containing abusive and obscene language, personal attacks of any kind or promotion will be removed and the user banned. Final decision will be at the discretion of the Taipei Times.