'Mama Mouth' death penalty upheld
QUESTIONS REMAIN: Relatives of the slain couple think Hsieh Yi-han had help killing Chang Tsui-ping and Chen Chin-fu; the convict can still appeal to the Supreme Court
The Taiwan High Court yesterday upheld the death sentence given to a woman convicted of robbing and murdering a couple in a high-profile case.
Hsieh Yi-han (謝依涵), 29, was sentenced to death by Taipei's Shilin District Court in October last year.
Yesterday's ruling upheld the original court decision that found Hsieh guilty of killing Shih Chien University assistant professor Chang Tsui-ping (張翠萍), 58, and her husband, Chen Chin-fu (陳進福), 79. The district court originally concluded that Hsieh's motive for the murders was to obtain Chang's jewelry collection — estimated to be worth NT$40 million (US$1.3 million at the time)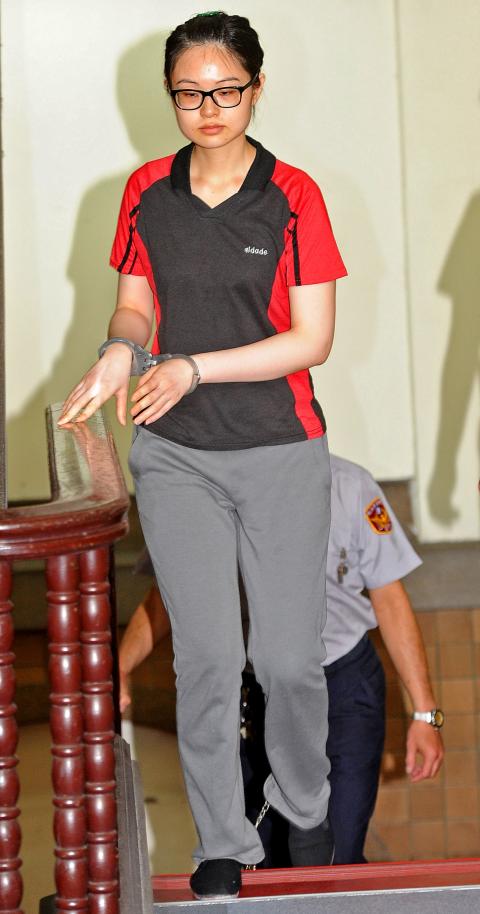 Hsieh Yi-han, 29, wears handcuffs as she enters the Taiwan High Court in Taipei on July 9.
Photo: Liu Hsin-de, Taipei Times
Hsieh managed a Mama Mouth Cafe (媽媽嘴) coffee shop on the Tamsui River (淡水河) in Bali District (八里) at the time of the crimes, which led to the incident becoming known as the "Mama Mouth Cafe" (媽媽嘴咖啡店) case.
Chang and Chen lived nearby and were regular customers, befriending Hsieh over time. Over several years, Chen, a wealthy businessman, became fond of Hsieh, and reportedly considered her as his god daughter or stepdaughter.
While his wife was teaching classes or traveling abroad, Chen visited the cafe daily, investigators said. He also began to give Hsieh gifts of cash and jewelry, they added.
A court statement said Hsieh sedated the couple with drugged drinks on Feb. 16 last year, then stabbed both with a fruit knife before throwing them into the Tamsui River.
After the murders, Hsieh stole NT$350,000 from Chen and tried, but failed, to withdraw more money from his wife's bank account by disguising herself as the murdered woman.
The couple's bodies were discovered among mangrove trees and sand bars along the river bank on Feb. 26 and March 2 last year.
After yesterday's verdict, Chen's sister said that Hsieh deserved the death penalty for what she called cold-blooded murder, "but whatever the punishment, the lost lives of our love ones cannot be returned."
She added that many questions remain unresolved in the case and that the families of the deceased suspect Hsieh had help carrying out the murders, so they have asked prosecutors to bring the accomplices to justice.
The case can still be appealed to the Supreme Court.
Comments will be moderated. Keep comments relevant to the article. Remarks containing abusive and obscene language, personal attacks of any kind or promotion will be removed and the user banned. Final decision will be at the discretion of the Taipei Times.