Journalist suing police after alleged violence and attack on press freedom
A journalist for online news agency Newtalk went to the Taipei District Prosecutors' Office yesterday to press charges against New Taipei City police in a bid to uphold freedom of the press, and to protest against police violence toward media workers.
News reporter Lin Yu-yo (林雨佑) was accompanied by Newtalk editor-in-chief Leon Chuang (莊豐嘉) as he filed suit against the police over incidents arising from media coverage of China's Taiwan Affairs Office Director Zhang Zijun's (張志軍) visit to Taiwan in June.
"This lawsuit is to let the government's operating apparatus know that freedom of the press is a cherished value. It must not be trampled under by police violence… We hope the lawsuit can deter police from using violent tactics against journalists in the future," Lin said.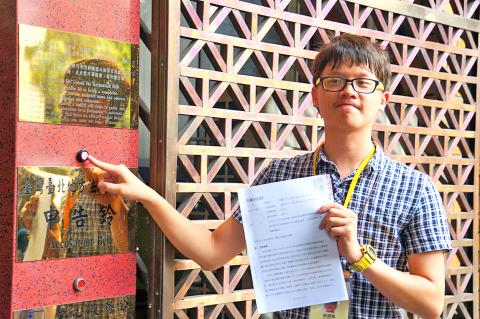 Newtalk journalist Lin Yu-yo prepares to file a lawsuit at the Taipei District Prosecutors' Office yesterday.
Photo: Chien Lee-chung, Taipei Times
Lin was sent to cover Zhang's trip to an Aboriginal village in New Taipei City's Wulai District (烏來) on June 26.
Protesters and civic groups, led by the Black Island National Youth Front were there to block the road to the village and Lin was at the scene to report on the situation, as police moved in to remove protesters by force.
Lin said he showed his press badge to the police and was not interfering with the police actions as he videotaped officers rounding up and detaining protesters with plasticuffs.
"Then all of a sudden, several police officers came over and began to shove and physically assault me to prevent me from videotaping the scene. I showed them my press badge, but they continued to manhandle me, and were going to handcuff me as well," he said.
"One commanding police officer yelled at me: 'Who gave you the press credentials?' Another said: 'You have a press badge, so what? You and the protesters should all be rounded up.' It was clear that the police were preventing journalists from reporting on what was going on, with the malicious intent to suppress press freedom," Lin said.
"In recent years, we have seen the vigorous growth of civic society movement activities in Taiwan," Chuang said. "The police should be more prudent in enforcing state authority."
"However, we are seeing more police violence incidents against citizens. So we had little choice but to press charges against the police. We are doing this to urge the authorities to guarantee the protection of press freedom," he said.
Comments will be moderated. Keep comments relevant to the article. Remarks containing abusive and obscene language, personal attacks of any kind or promotion will be removed and the user banned. Final decision will be at the discretion of the Taipei Times.