Tourism factories blossoming: institute
POLICY: The Ministry of Economic Affairs has encouraged traditional factories to incorporate tourism in its drive to facilitate the move to a service-based economy
The number of "factories" that promote history and culture through tourism in the nation has ballooned to 117 this year from 14 in 2008, according to the Industrial Technology Research Institute, which added that the number of "tourism factories" has grown sevenfold in as many years.
Factories focusing on alcoholic drinks and food top the list at 40, with King Car Group's Kavalan Whiskey Factory in Yilan County and the Kuo Yan-ye Museum of Cake and Pastry in Taoyuan County being notable examples.
Factories focusing on commodities came in second at 28, such as the Hsing Lung Towel Factory in Yunlin County, Les Enphant's museum in Taoyuan County and the Taiwan Metal Creative Museum in Greater Tainan.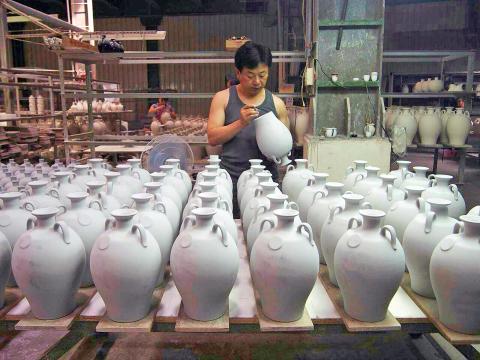 A worker inspects a pot in New Taipei City on Saturday. The New Taipei City Government wants to help pottery manufacturers in Yingge District transform into tourism factories in order to strengthen the cultural and creative industries.
Photo: Lai Hsiao-tung, Taipei Times
Nineteen factories specialize in healthcare, such as the Brand's Health Museum in Changhua County, while 17 factories specialize in the humanities, such as Chang Lien-chang's Saxophone Museum in Greater Taichung.
There are 13 factories focusing on oils, salt and rice, with Tatung's Soy Sauce Brewing Museum and the Zhong Xin Rice Castle in Changhua being notable examples.
In terms of geographical location, Greater Tainan leads the list with 19 factories, New Taipei City is second with 16 and Taoyuan County is third with 12 factories.
Department of Innovative Industrial Clustering Director Tsai Hsiu-ju (蔡秀如) said on Monday that the latest tourism factory to be approved was the Homestretch Hydrogel Tourism Factory in Greater Tainan's Rende District (仁德).
"The factory is the first in the nation to be based on hydrogel, and it has been established so that Taiwanese can better understand medical-grade hydrogel and its functions," she said.
Tourism factories are miniature reflections of their respective industries, Tsai added.
The assessment of tourism factories is based on five main factors — the type of business, their size, tourism facilities, the level of service and management capabilities, the institute said.
In a drive to facilitate the transition from a manufacturing to a service-based economy, the Ministry of Economic Affairs has encouraged traditional factories to incorporate tourism.
Since 2003, 160 factories have applied for the ministry to assess and aid them in their transition, with 117 passing the assessment.
The rising popularity of tourism factories and number of factories willing to make the transition may be increasing due to there being more emphasis placed on leisure time, the institute said.
Tsai said that tourism factories have become common for weekend excursions and school tours, adding that the volume of tourists during the summer vacation has greatly increased.
Comments will be moderated. Keep comments relevant to the article. Remarks containing abusive and obscene language, personal attacks of any kind or promotion will be removed and the user banned. Final decision will be at the discretion of the Taipei Times.